Name of Activity:
Archery Plinko
Purpose of Activity:
To improve shooting skill and accuracy while playing a unique archery game.
Prerequisites:
Shooting skill has been developed. Archers can consistently hit the target from 10-15 yards.
Suggested Grade Level:
10-12
Materials Needed:
Bows and arrows, target butts (48 inch preferable), protective gear, milk crates or shoe boxes, 5 inch disks (plastic, cardboard, these discs resemble a poker chip only bigger), target stands that allow target butts to lean back slightly.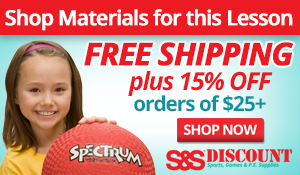 Description of Idea
Note: Safety is the utmost importance while teaching or engaging in an archery lesson so please watch that as you are doing this lesson.
The game resembles "Plinko" from the game show The Price is Right.
Shooters shoot their predetermined number of arrows into the target butt attempting to protect the entry point of the sliding discs into boxes placed on the floor at the bottom of the targets. Shooters are defending the boxes (the arrows become the pegs-as seen on the Plinko board from the game show). After all arrows have been shot, the non-shooter walks to the back of the target butt and releases his disc (Plinko chip) from the top of the target butt, letting it slide down the target face and find its way through the arrows (pegs) until it falls into one of the boxes on the floor. Boxes have assigned values, the non-shooter receives these points. The game is played until one player or group of players reaches the pre-determined game total. It is recommended that the target butts be leaned back slightly to allow the discs to slide down the target face.
Teaching Suggestions:
The game has been more enjoyable when students play the game as a part of a team of 3 or 4. Each shooting team member shoots their arrows, then each member of the "Plinko" team drops their disc (penalty discs can be awarded for any arrows that miss the target butt completely).
---
Submitted by Matt Petrie in Presque Isle, ME. Additional authors for this idea were Leo Saucier. Thanks for contributing to PE Central! Posted on PEC: 9/24/2006.

Viewed 34046 times since 3/9/2006.
---
---
Previous Comments:
There are currently no comments to display. Be the first to add a comment!