Name of Activity:
Musical Hoops
Purpose of Activity:
Students will gain a better understanding of self space in terms of how one's personal space may overlap that of other students.
Suggested Grade Level:
PreK
Materials Needed:
At least one hoop for each child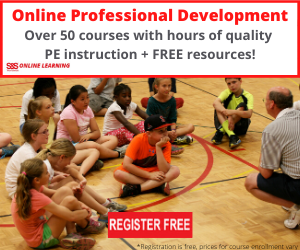 Description of Idea
Make a path of hula hoops and have the students travel from hoop to hoop as music plays. When the music stops, each student freezes inside one hoop.
Next, using cones or lines painted on the floor, designate a square or circle around which the children will travel. Place the hula hoops inside this area. As music is played, the students walk on the shape around the hoops. When the music stops, the students enter the shape and each find a hula hoop in which to stand. One student per hoop.
Designate the hoop as each child's personal space and explain the benefits of maintaining a safe personal space.
Variations:
As the game progresses, remove one hoop at a time. Rather than eliminating children, as in Musical Chairs, suggest that children share their "space" with another student. Reduce the hoops until all children are sharing one or two hoops when the music stops.
Assessment Ideas:
Observe for one student per hoop (safe personal space)
Observe for appropriate response to music stopping
Later in the game, observe for appropriate "sharing" behaviors
Submitted by Susan Fisher who teaches at McMullen Booth Elementary School in Clearwater , FL . Thanks for contributing to PE Central! Posted on PEC: 5/24/2001. Viewed 131817 times since 8/24/2001.
Musical Hoops

---
Previous Comments:
There are currently no comments to display. Be the first to add a comment!
---
---