Name of Activity:
Striking A Ball
Purpose of Activity:
To introduce young children to striking a ball with a paddle
Suggested Grade Level:
PreK-1
Materials Needed:
18-Inch-High Cones, Ethafoam Paddles (i.e., lollipop paddle), Lightweight 6-8" ball of some sort (balls smaller than that allow students to hit too much of the cone), carpet squares to put under the cones to adjust height for some children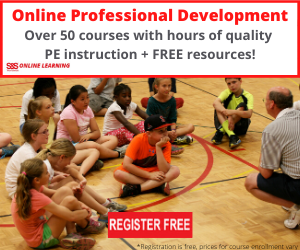 Description of Idea
An easy way to introduce young children to striking skills using a short handled paddle is to use an 18-inch-high cone, a paddle (preferably an ethafoam paddle because it is lightweight), and a ball. This is the same principle as using a batting tee.
Indoors or out, make sure cones are spread out so that children do not swing and accidently strike another child. (It is a good idea to put jump ropes out to surround the area the cones and the area the children are standing in--this indicates the "striker-only" area.) Children place their ball on the cone, hold their paddle back to the side of their body, and then swing as hard as they can. Ask the children to focus on the ball (watch the ball) and to stand still when swinging the paddle.
The teachers role with this activity is to observe children and assist them in making adjustments in the way they hold the paddle, how they are standing, or with their swing. Remember that at this young age children need to swing the paddle through a full range of motion. So, ask that they swing hard or "See how far you can hit the ball."
Teaching Suggestions:
You may want to have several balls in a box that is close by to the teeing area so they have lots of practice trials.
Do not let children go out into the area to collect balls until the teacher says to go. Please have them go all at once. Their task is to pick up as many balls that they hit out of their box--and they don't have to pick up the one they hit! Please practice the pick up section of this activity!
May want to have a child "on deck" waiting for a turn if your class is big or your activity area is small.
Submitted by Steve Sanders who teaches at Univ of South Florida in Memphis, TN. Thanks for contributing to PE Central! Posted on PEC: 3/3/2007. Viewed 143756 times since 8/24/2001.
Striking A Ball

---
Previous Comments:
| | |
| --- | --- |
| Morgan Allan | Have you built any busstops recently |
---
---