Name of Activity:
Shape Shifters
Purpose of Activity:
To learn and be able to recognize different shapes and colors.
Prerequisites:
Understanding of locomotor skills.
Suggested Grade Level:
PRE-K
Materials Needed:
Construction paper, radio/tape(cd) and laminating machine so paper does not tear.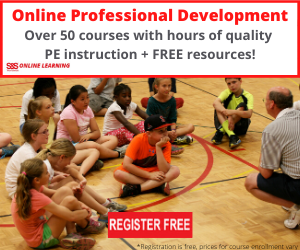 Description of Idea
Laminate different colored shapes. Preferably big pieces of paper (8-10 inch). Place them on the floor and play music while the children walk around them (depending on the type of floor the shapes may need to be taped down so children will not slide). When the music stops the children should move to and stand on a shape. Ask the children "who is standing by a square, circle," etc., and ask what color they are standing on. Other locomotor skills can be added as well as concepts of directions and pathways. "Can you walk backward in a straight pathway? When the music stops quickly move to a colored shape." "Gallop in a curved pathway around the shapes."
Variations:
Use basic shapes for Pre-K. For older children use Octagons, Diamonds, Hexagons etc. If having shapes taped to the floor creates a safety concern tape the laminated shapes to cones and have children move to stand by a shape.
Assessment Ideas:
Hold up shapes and ask children to name the shapes. As children leave the class hold up flash cards with shapes and see if individual children can identify them.
Adaptations for Students with Disabilities

Ask children with restricted movement to name the shape another child is standing on. Children in wheelchairs can move chairs over the shapes on the floor.
Submitted by Cheryl Pavielka in Merchantville, NJ. Thanks for contributing to PE Central! Posted on PEC: 2/14/2002. Viewed 131424 times since 12/1/2001.
Shape Shifters

---
Previous Comments:
There are currently no comments to display. Be the first to add a comment!
---
---