Name of Activity:
Jump the River
Purpose of Activity:
The purpose of this activity is to give children the opportunity to practice the skills of jumping and landing while emphasizing swinging the arms when jumping, and landing in a balanced position without falling.
Activity cues:
Swinging the arms from back to front when jumping, landing in a balanced position without falling
Suggested Grade Level:
PreK
Materials Needed:
Something to jump over (jump rope, hoop, tape lines on the floor). Provide at least one object to jump over per child.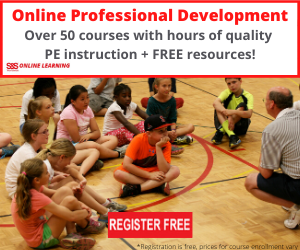 Description of Idea
Conduct this activity in a large indoor or outdoor space with marked boundaries so that children know where they can and cannot move. Before beginning the activity scatter the jump ropes or hoops throughout the space so they lay flat on the floor.

Explain to the children that they are taking a walk in the woods and may need to cross a stream or river. Ask children to walk throughout the space and when they come to a river (rope, hoop, or tape line on floor) they need to jump over the river without getting their feet wet. Children should work independently of their classmates during this activity.
To assist children in learning the fundamentals of jumping, teachers should initially ask children to takeoff on two feet and to swing their arms forward when they jump.
When landing, children should land on two feet spreading their feet about shoulder width apart so they have a wide base of support when they land. After landing children should proceed to and jump over the next river.
Emphasis should be placed on landing on both feet at the same time without falling over.
Give children plenty of time to move throughout the space and jump over all the rivers.
For safety reasons, suggest that children not get closer than two giant steps from each other, especially when they are swinging their arms to take off and when landing.
After 3 to 5 minutes of jumping children may need a brief rest period (30 to 60 seconds) before continuing the activity.
Variations:
Vary activity by asking children to see how high they can jump and how far they can jump when traveling over the river. Emphasize landing on balance without falling over.
More experienced children may like the challenge of clapping their hands as the fly through the air, or turning in the air before they land. Whatever the variation, teachers and children should not lose sight of the main objective of landing in a balanced position.
Do not feel limited to only jumping over hoops or jump ropes. This can be a great classroom integration activity and can have many variations. For example, ask children to draw or paint their own rivers on large sheets of paper. Make sure they draw fish, trees, and other objects in and alongside their river. Tape children's drawings to the floor and pretend that the class is going on a trip. When children reach the different rivers scattered throughout the room they must swing their arms and jump over the river, landing on the other side without falling over.
Teachers may also want to integrate this idea with a book they read to children about rivers or ways people travel.
More experienced children may want the challenge of taking off from one-foot and landing on two-feet, or jumping off of one-foot and landing on one-foot. The focus should still be the same-swing arms when jumping and land without falling.
Assessment Ideas:
The National Association for Sport and Physical Education (NASPE, 1995) has developed benchmarks in this area that suggest that by the time a child completes kindergarten he/she should be able to jump and land while being under control. This suggests that children this age should be able to jump in different directions both on the ground and off of low obstacles, and to stay on balance and not fall when landing. Participating in activities such as "Jump the River" will provide children with opportunities for skill practice. Teachers can use this time to observe children's jumping and landing skills and record their progression toward reaching benchmarks in this area.
Adaptations for Students with Disabilities

Children with special needs who are not movement restricted should have little difficulty participating in this activity. Children who have movement restrictions can still participate, but depending on the ability level of each individual child, teachers may need to hold the child's hand to help them land on their feet without falling. Children in wheelchairs or those who have severe movement restrictions will not be able to participate in this activity.
Submitted by the PE Central Staff. Thanks for contributing to PE Central! Posted on PEC: 12/15/2003. Viewed 273087 times since 8/24/2001.
Jump the River

---
Previous Comments:
del campo

children in a wheelchair can do participated put a jump rope on the floor intend of jumping they can go around to the other side

Sandra David

this game is a good one keep it on forever

Rekha

I liked this explanation about River crossing very much. It was so helpful to me that can't write it in words. Thank u very much.

isobel

I liked the way its planned out and will try this activity very soon.

Janet

Re: VPK program

Is it mandatory at recess to have competitive and non competitive. I have to come up with ideas.
One game should be non-competitive and one game may be competitive. Games should have a focus on skills that are featured in the VPK curriculum. Please focus on one skill per week. Also, are there benchmarks for VPK.
---
---