Name of Activity:
Flexibility Rush
Purpose of Activity:
To teach elementary students about the concept of flexibility and stretching activities to improve flexibility.
Prerequisites:
Teachers should talk about the concept of flexibility and teach some stretching activities to improve before to do this activity.
Suggested Grade Level:
3-5
Materials Needed:
Puzzle pieces (
Microsoft Word
) (
PDF
) that are enough for 5 groups of 4-5 students.
Exit Assessment Slip (
Microsoft Word
) (
PDF
)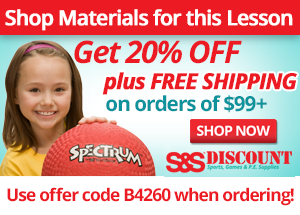 Description of Idea
1. Divide your class groups of 4-5 students.
2. Place the puzzle pieces in the center circle on your basketball court (9 puzzle pieces per group, see the attached document).
3. Groups will be placed at the baseline.
4. Two of the group members will stay at the baseline and do stretching activities (make sure you warm the students up first) and work on the puzzle pieces.
5. The rest of the group (3 students) hold hands and travels to the center circle by using the loco-motor movement called by teacher (walk, run, skip, gallop, etc.) and they pick one puzzle piece and bring it to their group at the baseline.
6. Next, students who were doing stretching activities take their turn to travel to the center circle and retrieve a puzzle piece while others working on the puzzle and doing stretching exercises.

7. One person from the puzzle retrieving group travels with the two people who were doing stretching exercises to the center circle.
8. Students should keep taking turns working on puzzle and retrieving puzzle pieces throughout the activity.
9. The group that solves the puzzle sits altogether to let their teacher know that they are completed their task.
Assessment Ideas:
1. For pschomotor learning assessment, teacher would use a checklist, and rating scale to evaluate his/her students' locomotor movements.
2. For cognitive learning assessment, teacher would ask students to use the words from their puzzle and come up with two sentences that talks about flexibility and the importance of the stretching activities (see the attached document).

3. For affective domain learning assessment, teacher would request a written statement shows students' support for teammates. Teacher would also create a multiple choice question that students can pick the behaviors they did to support their friends while they are solving the puzzle (a. I gave encouraging comments, b.I cheered for my friends, etc.)
Teaching Suggestions:
If kids do not like to hold hands, you can use scarfs to form a circle.
Adaptations for Students with Disabilities

Since group is doing their tasks together, kids with disabilities would be part of the activity. For example, visually impaired kids can be guided by their friends while travelling to center circle.
Submitted by Hasan Mavi who teaches at Eastern Illinois University in Charleston, IL. Thanks for contributing to PE Central! Posted on PEC: 3/19/2018. Viewed 18836 times since 3/7/2018.
Flexibility Rush

---
Previous Comments:
There are currently no comments to display. Be the first to add a comment!
---
---