Name of Activity:
Adapted RING TOSS (non-ambulatory)
Purpose of Activity:
This activity is for students with physical disabilities specifically students with motorized w/c, gait trainers, wheel chairs. Most importantly this activity can be adapted to fit any learner of any physical or cognitive ability.
Prerequisites:
Student should have the cognitive ability to comprehend instructions such as grasping/releasing objects with tactile assistance if needed. Also objects relating to other objects such as the hula hoop must go over the construction cone.
Suggested Grade Level:
all
Materials Needed:
If there are blue, red and yellow hula hoops then there should be blue yellow and red construction cones or construction cones with same colored poly-spots in front of cones. Depending on cognitive ability first task may be one hula hoop and one construction cone.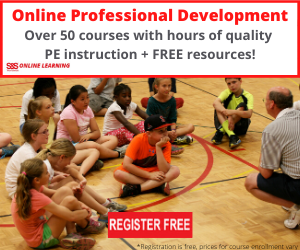 Description of Idea
In the gymnasium take the thin hula hoops and stick them in between the wall mats that are typically in every school gym. In between each mat there is a small space, perfect for a thin hula hoop. place it in lightly, at optimal level for student success. With enough space in between put different colored hula hoops in between the mats. Same color as construction cones.
Depending on ability create pathways with poly spots for students to follow to construction cones.
Students will travel and grasp hula hoop from wall, will find same colored poly spots and follow the pathway to construction cones.
Students will find same colored construction cone as poly spots and hula hoop and release hula hoop over construction cone
Students will then follow poly spot pathway back to hula hoops and repeat task.
EXTENSIONS : students with severe disabilities, the colors of everything can be taken out and task can be focused on strength to grasp hula hoop from the gym mat, travel while grasping object and release hula hoop over cone. The distance of the hula hoops to cones can vary, if focusing on levels (high,medium, low) students can grasp hula hoop from a lower or higher level, I usually put the hoops at a medium level which is most beneficial for students in gait trainers and wheelchairs.
Students can follow poly spot pathway and have the construction cone a distance where students can throw with two hands the hula hoop over the construction cone.

Assessment Ideas:
Depending on cognitive ability. The initial task of grasping a hula hoop from a gymnastics mats at medium space can be modified in many different ways such as adding colors or numbers for the students to match. Adding pathways with poly spots to the cones; choosing the location or proximity to where the cones will be to the hula hoops.
Adaptations for Students with Disabilities

This is specifically designed for students with disabilities, especially non-ambulatory students requiring the use of gait trainers, w/c, powered w/c etc. Also this activity can be done independently or if needed maximum hand over hand assistance.
Submitted by Jameson Flynn who teaches at Fall River Public Schools in Fall River, MA. Thanks for contributing to PE Central! Posted on PEC: 4/17/2017. Viewed 22077 times since 3/6/2017.
Adapted RING TOSS (non-ambulatory)

---
Previous Comments:
There are currently no comments to display. Be the first to add a comment!
---
---