Name of Activity:
Pedometer Science
Academic content:
Science and Scientific Method, Math
Purpose of Activity:
For students to discover the parts of their school day they are most active and get the most steps on their pedometer.
Prerequisites:
Understanding of how a pedometer works and where is is worn for best scientific results.
Suggested Grade Level:
3-5
Materials Needed:
Pen/Pencil,
Pedometer Science Handout
, Pedometers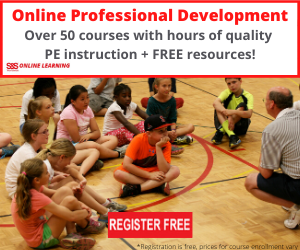 Physical activity:
Use of Pedometers, active times throughout day
Description of Idea
What part of the day are you most active? We make a prediction and then test our hypothesis by wearing a pedometer and going about our day as usual. At 3 points in the day we will record our data on our paper and reset our pedometer. A good scientist looks for accurate, honest data. They do not change the numbers or shake the pedometer to match the hypothesis.
Assessment Ideas:
Disuss at the end of the activity, the students results. Create a graph of of data. Draw conclusions from this data using graph or discussions.
Teaching Suggestions:
Take off pedometers and store in a quiet place during class to avoid disruption.
Adaptations for Students with Disabilities

Students in wheelschairs can use a odometer to track chair motion.
The pedometers can be worn in other locations although not ideal.
Submitted by Jenni Peters who teaches at North Street School in Grafton, MA. Thanks for contributing to PE Central! Posted on PEC: 1/22/2017. Viewed 25367 times since 1/20/2017.
Pedometer Science

---
Previous Comments:
There are currently no comments to display. Be the first to add a comment!
---
---