Name of Activity:
Space Jam Dance
Purpose of Activity:
To encourage students to enjoy dance, elevate the heart rate, and learn and practice different dance moves.
Suggested Grade Level:
4th and Up
Materials Needed:
Tape or CD player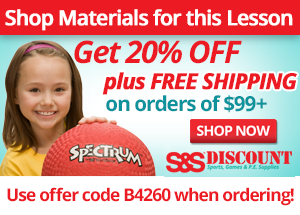 Recommended music:
Space Jam Soundtrack
(3rd song on CD called "Space Jam") (from Amazon.com)
Description of Idea
Cue up the third song on the Space Jam Soundtrack CD. It is called "Space Jam". There are sixteen counts to every move in this dance. There is an introduction period right before the music. It lasts about 16 seconds. Start the dance after that introduction period. (Students do not use basketballs to dribble, they pretend to.)
PART 1: Begin by dribbling two times with the right hand, then two counts with the left. Continue dribbling for 15 counts. On the sixteenth count, jump high and slam dunk.

PART 2: Immediately after the slam do a grapevine right for four counts. Repeat left then right then left again for a total of 16 counts. Clap on every fourth count.

PART 3: Raise hands in the air and turn to the right pivoting on the right foot. Wave hands in the air. I call this party hands. Move to the rhythm. This move lasts for sixteen counts. Try to face forward on the sixteenth count.

PART 4: Bankhead bounce (put your hands in front of your chest with closed hands--make a loose fist--and move the arms from side to side while moving the shoulders up and down) forward four counts then back four counts. Continue forward and back again for a total of 16 counts. On the 16th count, turn toward the back and bankhead bounce the same way for 16 counts. Grapevine left for four counts. Repeat right then left then right again for 16 counts.

PART 5: While facing to the back, start over by dribbling with the right hand for two counts then the left hand for two counts and gradually turn to the right until facing forward again. Repeat steps 1-5 until the end of the song.
Submitted by Adam Weinbaum who teaches at Stowers Elementary School in Fort Benning , GA . Thanks for contributing to PE Central! Posted on PEC: 4/27/2001. Viewed 81233 times since 8/24/2001.
Space Jam Dance

---
Previous Comments:
| | |
| --- | --- |
| Heidi Smith | Has anyone made a video of the above dance? |
---
---