Name of Activity:
Food Group Hustle
Purpose of Activity:
To introduce students to food groups and how they fit on the food plate.
Suggested Grade Level:
3-5
Materials Needed:
Food Group Posters (2 per station) Cones Food Plates/Placemats (1 per partner pair.) Food pictures (several for each food group)
Food Group Hustle Document
Food Group Posters PDF
Food Group Posters PPT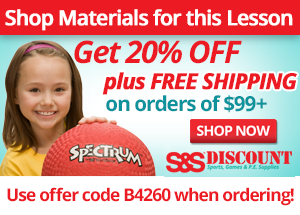 Description of Idea
Directions:
1. Each partner pair will line up behind a small colored cone that matches the cone color of their current food group.
2. Partner pairs will each have 1 food plate and will put it on the ground near their cone.
3. On the go signal, 1 partner will run to pick 1 food from their food group bucket and will bring it back to the partner cone.
4. When the partner returns with the food item, the next partner will run to collect another food from the food group bucket.
5. Partners will continue taking turns running to the food group bucket until the whistle is blown.
6. When the whistle blows, students will return to their partner cone and will cooperate with their partner to choose 1 food to Velcro to the correct section of the food plate.
7. Students will then return the extra foods to their bucket and will rotate to the next food group.
8. The activity will continue until each partner pair has completed each section of the food plate.
Assessment Ideas:
At the end of the activity, the teacher will check for understanding (many possibilities):
Call on partner pairs to share their food plate with the class.
Call on students to name foods that fall into each section of the food plate.
Discuss foods students may not have tried yet and challenge them to try new foods at home or in the cafeteria.

Submitted by Julie Westcott who teaches at Alexandria City Public Schools in Alexandria, VA. Thanks for contributing to PE Central! Posted on PEC: 10/24/2013. Viewed 23631 times since 10/14/2013.
Food Group Hustle

---
Previous Comments:
| | |
| --- | --- |
| Rachel Blum | Where are the foods that you put in the food group bucket? |
---
---