Name of Activity:
Body System SWA-BATT Game
Purpose of Activity:
The purpose of this activity is for students to have fun while learning about a body system, what organs are involved, how organs function and what can be done to keep the body system healthy.
Suggested Grade Level:
9-12
Materials Needed:
A SWA-BATT (Flyswatter) for each team of 4-5 students, it helps to have a variety of colors. A list of multiple choice questions.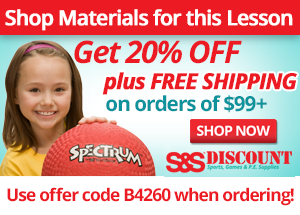 Description of Idea
Students are grouped into teams. Teacher writes a word bank on the blackboard. Teacher explains rules of play: SWA-BATT is only to be used on blackboard (no swatting anything else!). First SWA-BATT on correct answer gets 10 points, second is 5 points, and 1 point for third. Each team selects order in which students will play.
Teacher reads a question or fill-in-the blank statement aloud (or selected student can read). Student selects response by swatting it with the SWA-BATT. Student keeps SWA-BATT on board until teacher completes recording points.

Submitted by Schuyler Antane in Princeton Junction, NJ. Thanks for contributing to PE Central! Posted on PEC: 2/25/2013. Viewed 12873 times since 11/17/2012.
Body System SWA-BATT Game

---
Previous Comments:
There are currently no comments to display. Be the first to add a comment!
---
---