Name of Activity:
March Madness Test Review for All Health Subjects
Purpose of Activity:
To review any health information with students that will be on an upcoming test.
Suggested Grade Level:
9-12
Materials Needed:
Tournament bracket on a transparency for however many teams you have, review questions for your topic, marker/white board to keep score, prizes for winning team(s) (optional).
Brackets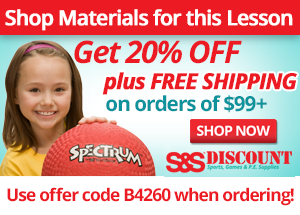 Description of Idea
This is a fun way to bring the spirit of March Madness into the classroom and review material for a test at the same time.

-Have students partner up and assign them a team number. Print off a tournament bracket according to how many teams you have. (link for brackets is listed above). For odd numbered classes, have 1 group of 3 and/or have the third person keep score).

-Put teams on the bracket however you would like. Doing this on a transparency with the overhead would probably be appreciated by the students so they can see what is going on.
-Set up 4 chairs at the front of the classroom. Call up the first 2 teams to compete in the first round. Both people from each team will sit in the chairs. Tell them the first team to raise their hand with the correct answer will get a point and move on to the next round.
-If the team answers wrong, allow the other team to answer. It both teams get the question wrong open it up to the first team in the class to raise their hand with the correct answer. If they get it right you can do a few things: let them choose which team up front moves onto the next round, make the 2 teams rock/paper/scissor it out, choose a number closest to what you're thinking, or have the team that answered correctly take their place.
-Teams that get out in the 1st or 2nd round can still earn points by answering questions opened up to the class. You can also decide to randomly throw out a question to the class for opportunities to get points.
-Optional- have questions that are opened up to the class worth 2 points to increase the competitiveness of the game.
-As teams advance, continue to fill in the brackets. Continue on to the 2nd and 3rd rounds.
-Once you have your champion (points don't matter for champion, whoever is the last team standing is the official champion), find out the 2nd and 3rd place teams by the most amount of points earned in the game. 1st place can choose a prize first, then 2nd and finally 3rd place. Or you don't have to have prizes at all.
Variations:
-Prize ideas: extra credit, late work turned in for full credit, open book/open partner test,candy, gift certificates to food, movies, ice cream, etc. (see if you can get donations from local places)
-You can also give out dum dum suckers to teams that scored at least. Prizes, however, are always optional.
Submitted by Shannon Hurst in West Valley City, UT. Thanks for contributing to PE Central! Posted on PEC: 10/28/2011. Viewed 23345 times since 2/27/2011.
March Madness Test Review for All Health Subjects

---
Previous Comments:
There are currently no comments to display. Be the first to add a comment!
---
---