Name of Activity:
Germ Tag
Suggested Grade Level:
1-5
Materials Needed:
Cones to define playing area, 2 red foam balls, 2 green foam balls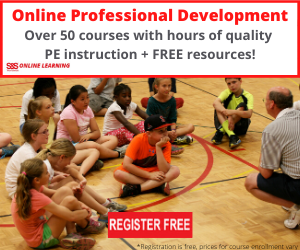 Description of Idea
Have students find a good self space in the activity area. Give 2 students a green ball (make sure it is a ball they can hold in one hand) and give 2 students a red ball. The students with the red balls are the "germs" and the students with the green balls are the "doctors".
On the teachers signal the students are to move throughout the area according to the teachers locomotor movement choice (i.e., walking, sliding, skipping, etc.) trying to avoid beign tagged by the students with the red, "germs" ball. If the students without the ball get tagged (no throwing the ball) by a red, "germ" ball, then they are to get on their back and flail their arms and legs in the air. To get unfrozen they have to be tagged by students with the green, "doctor" ball. They are free to move in the game again after being cured (i.e., tagged) by a person with the green, "doctor" ball.
Stop the game after a minute or so and have new students carry the doctor and germ balls.
Teaching Suggestions:
When explaining the game make sure you tell the students that the ball has the germs and not the students. Some students/parents may object to students being called "germs."
Have students walk before doing other locomotor movements.
Remind students to watch out for their friends on the floor that are the germs. They need to keep their eyes up while they are moving.
Do not allow throwing of the balls.
Submitted by Ashley McKnight. Additional authors for this idea were Julie Echols. Thanks for contributing to PE Central! Posted on PEC: 10/9/2001. Viewed 70693 times since 8/24/2001.
Germ Tag

---
Previous Comments:
Hilary

I work in an after school program and I'm planning
On doing a sickness prevention theme next week and this game will be perfect because they will be getting in their fitness time while reinforcing what they're learning outside of the gym. I'm super excited to give it a go, they're going to LOVE it!thanks for sharing.

Hayley & georgie

this is a really cool warm up idea!!!
---
---