Name of Activity:
MyPlate Extravaganza
Academic content:
Nutrition
Purpose of Activity:
SWBAT categorize different foods into the four MyPlate food groups - Grains, Protein, Vegetables, and Fruits.
Prerequisites:
A prerequisite for this activity is prior knowledge about MyPlate nutrition principles.
Suggested Grade Level:
K-5
Materials Needed:
Cones and/or a gym line as the starting line, 50-100 pictures (number dependent on class size and activity space) of various foods from the four MyPlate food groups, about 10 MyPlate record-keeping papers for each team.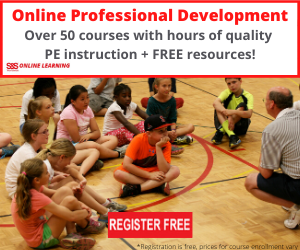 Physical activity:
Skipping, Galloping or other Locomotor Skills of Teacher Choice
Description of Idea
First, divide the class into groups of 2-3 kids. Spread each group out behind a cone and/or a gym line. Assemble all of the food pictures, face down, at the far end of the playing area.
One player at a time from each team skips or gallops to the food picture area, picks up one picture (without peeking), returns to his/her group, then next player repeats same routine.
Before playing, each group will have spread out their 10 MyPlate papers behind their starting line/cone. When each player returns with a food picture, the group works together to categorize and sort the food pictures by placing them onto the MyPlate papers. When a group completes a MyPlate paper, with one food picture from each food group (Grain, Protein, Fruits, Vegetables), they earn 10 points.
Continue play until all the food pictures have been retrieved. If time allows, allow teams to make trades of their remaining food pictures.
Variations:
Students can bring in food pictures from home. Older students can label the food pictures.
A fun modification to this activity would be to add several junk food pictures to the mix and if a group retrieves a junk food picture, their group subtracts 5 points from their total score.
Assessment Ideas:
Are the students placing the food pictures on the correct food groups on the MyPlate record-keeping papers?
Are students performing an age-appropriate skipping or galloping technique?
Teaching Suggestions:
If possible, it helps to laminate the MyPlate record-keeping papers as well as the food pictures, in order to protect these items and allow for repeated usage.
To maximize efficiency, placing velcro tabs onto the laminated MyPlate record-keeping papers and food pictures would prevent the expected slippage that occurs when little kids are highly active.
Adaptations for Students with Disabilities

Students with physical limitations could be pulled by a teammate on a scooter. Students with cognitive disabilities could have a buddy to assist with game rules and routines.
Submitted by David Isenberg who teaches at Millville Elementary School in Millville, MA. Thanks for contributing to PE Central! Posted on PEC: 6/23/2022. Viewed 8096 times since 6/23/2022.
MyPlate Extravaganza

---
Previous Comments:
There are currently no comments to display. Be the first to add a comment!
---
---