Name of Activity:
MyPlate Relay
Purpose of Activity:
Students will learn about balanced nutrition and making good food choices, according to MyPlate
Prerequisites:
Knowledge of food groups
Suggested Grade Level:
K-5
Materials Needed:
Hula hoops (1 hoop per group of 2-4 students) Yarn balls (100) or colored objects in 6 basic colors (red, blue, green, orange, yellow, purple) These will represent the food groups on the MyPlate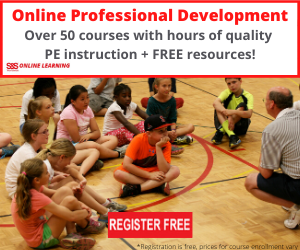 Description of Idea
Round 1
Colored balls/objects will be placed in the center of the gym. Students will be in groups of 2-4 sitting by a hula hoop around the outside of the gym. The hula hoops will represent their plates. 1 partner at a time will run into the middle and grab a colored ball/object and bring it back to the group and place it in their hula hoop. The next partner then does the same. This will repeat until all the objects have been taken.
You will then have students look at their plates and discuss the breakdown of colors and how it represents the different food groups on MyPlate. Discuss how they want a balanced plate with approximately equal amounts of fruits(red), vegetables(green), protein(purple), and grains(orange); small amounts of dairy(blue), and minimal amounts of fats, oils, sweets(yellow).
Round 2:
Students will now be allowed to trade foods with another group. They can take any excess amount of a color and bring it to another team and swap out for any of that team's colors. They will try to create a well balanced MyPlate.
Students cannot guard or block a group from trading, and you can make a rule that they cannot trade with a group that is next to them.

Variations:
To add more activity perhaps you could have the students jumping rope while waiting for their turn to get a food item.
Assessment Ideas:
Have students walk around the gym looking at each groups Plate. Have them sit near or take a vote on which group has the healthiest plate. Students should be able to identify and explain that they picked the most well balanced plate with a variety of colors.
Teaching Suggestions:
Adaptations for Students with Disabilities

You can use only green and red colors, and have them identify good (green) and bad (red) choices. This also works for grades pre-k-2
Submitted by Bryan Smith who teaches at Milltown Primary School in Bridgewater, NJ. Thanks for contributing to PE Central! Posted on PEC: 2/12/2022. Viewed 8852 times since 12/10/2021.
MyPlate Relay

---
Previous Comments:
There are currently no comments to display. Be the first to add a comment!
---
---