Megan Chilson
Univ of Montana-Western
Dillon, MT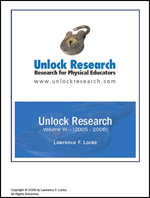 PE Central exists to assist teachers and other adults in helping children become physically active and healthy for a lifetime.
Welcome to the Research In Action section of PE Central. In this section, we share practical and innovative research findings in a user friendly manner. Please note that in almost all instances to gain access to these articles you will have to go to the library or get the original journal from the publisher. Our PE Journals page should be helpful for that task.
---