Name of Activity:
Disability Awareness Lesson
Purpose of Activity:
Gain an understanding of how activities should be modified for the physically challenged.
Prerequisites:
Prior teaching of what constitutes a physical disablity.
Suggested Grade Level:
3-5
Materials Needed:
Wheelchair(s), walker(s), thick rubber band(s), earplugs/headphones, blindfolds, crutches, any other equipment that may hinder physical abilities (I've used back braces, a plastic boot, slings, etc.), soft balls to catch, jump ropes, hula hoops, parachute, yarn balls and bowling pins.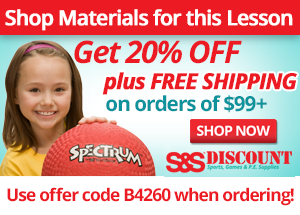 Description of Idea
Half of the students are physically challenged and half are their helpers. Pair one physically challenged with one non-challenged student. Have challenged students select a disability. The students in the wheelchairs will have no movement in their legs. The students that uses the walker will have limited mobility with their legs (have them wear the thick rubber bands around their ankles). The students with the earplugs/headphones will be partially deaf. The students with the blindfolds will be legally blind. The students with the crutches will have no use of one of their legs.
Students now select and try typical physical education activities. Have the non-challenged and their challenged modify the activity to fit the needs of both.
Activity Ideas:

Play catch (various balls, student with visual disability will see why we are using brighter colored balls more in PE now)

Hula Hooping (assisting disabled students with modifications.. ie: around their arms)

Jump Rope (long rope is good, disabled can be "turners")

Bowling pin target practice (With yarnballs, try to knock down pins from various distances)

Parachute activities (deaf can see challenges with "mirroring" and not hearing instructions)
After trying one activity for a set amount of time pick a new physical challenge and reverse roles.
Teaching Suggestions:
Safety may be a concern with so many students having "created" disabilities. If safety is a problem have one challenged student for every two non-challenged.
Adaptations for Students with Disabilities

If physically challenged students are present in the class, involve them by asking them to explain how they modify activities to be successful.
Submitted by Chris Wolff who teaches at Southside Elementary in Powell,, WY. Thanks for contributing to PE Central! Posted on PEC: 5/2/2003. Viewed 64905 times since 3/28/2003.
Disability Awareness Lesson

---
Previous Comments:
Valerie A. Bonds

Eye hand coordination focusing on texture,directionals, and self toss/catch or pass to left/right hand
Materials: yarn balls, bean bags and small plastic balls
Multi-colored materials are best
Tossing to a target: colored map dots, hoola hoops or cones
skill: tracking

---
---