Name of Activity:
Push Up Ball Fury
Purpose of Activity:
To improve upper body strength
Prerequisites:
Students should be able to demonstrate proper form for maintaining body in a 'push up' position from the floor. i.e. hands positioned shoulder width apart on the floor, elbows extended-supporting body weight off of floor, etc.
Suggested Grade Level:
6-8
Materials Needed:
1 to 3 softi-balls, tape to use as line markers

Organization:

4-6 players on a team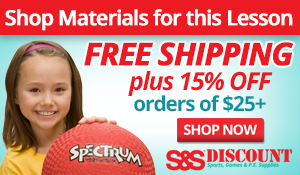 Description of Idea
Each team forms a wall on the line, shoulder to shoulder, with their teammates (using the tape as a line marker). The two teams face each other with about 3-5 yards of distance between each team. Both teams get in a push up position. From the pushup position, their hands should be placed on the floor just in front of the line.
Begin the game with one ball then add more to allow more students to be active in the game. The object of the game is to push the ball to the other team, in hopes of getting the ball to cross their line. Players are having to support their body with one hand while trying to push the ball or stop the ball. (Encourage students to use whichever hand is closest to the ball). Students enjoy trying to push the ball or stop the ball while trying to support themselves in a push up position. Students may take no more than a 10 second break (placing knees on the floor-modified pushup position). But they may not push the ball in this position. If they try to stop the ball while knees are on the floor-it is a point for the opposing team.
Variations:
Allow students to use the modified pushup position (knees on the floor).
---
Submitted by Shawn Holt who teaches at G.W. Carver Middle School in Martinsville, VA. Thanks for contributing to PE Central! Posted on PEC: 10/7/2001.

Viewed 80948 times since 8/24/2001.
---
---
Previous Comments:
There are currently no comments to display. Be the first to add a comment!