Name of Activity:
Heart Walkers
Purpose of Activity:
To allow students the opportunity to listen to their hearts after different levels of exercise to compare a resting heart beat to the heart beat after running.
Prerequisites:
previous discussion of oxygen-rich blood & oxygen-poor blood
previous discussion of which type of blood vessel carries each of those 2 types of blood
Suggested Grade Level:
3-5
Materials Needed:
one red soffi ball
one blue soffi ball
2 stethoscopes
sanitizing wipes for each child to wipe stethoscope clean
individual pedometers (optional)
upbeat music to run/jog to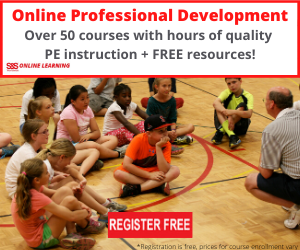 Description of Idea
I do this activity during what we call Walking Wednesday (our version of a Miler's Club) while all students are wearing pedometers.
At the beginning of class, I show the two "blood cells" (soffi balls) and relate them to what we had previously learned about how arteries carry oxygen rich blood - represented by the red ball; and how the blue ball represents the oxygen poor blood carried by our veins.
I hand one student the red ball and another the blue ball. If you get the red ball you must run your fastest for 2 laps, then pass the ball to a friend, run to the table where the stethoscope and wipes are and listen to your heart beating after you have worked hard, then rejoin the group of students walking/jogging. If handed the blue ball, you may only walk. After walking 2 laps, go through the same process of listening to your heart and compare/contrast the rate of your heart beat. The two balls are passed throughout the entire group so that every student has at least one turn with each color and if time allows we continue so everyone can get more turns.
This really helps get some of those kids who only want to walk each Walking Wednesday to "step up their pace."
Variations:
You can also incorporate a pulse station if you like.

Assessment Ideas:
Ask students to explain to you the differences they noted from their observations of listening through the stethoscope. I love watching their faces as they listen to their heart.
Teaching Suggestions:
Make sure you explain proper cleaning and use of the stethoscopes if students are not already familiar with them.
Submitted by Lisa Ives who teaches at Tolar Elementary in Tolar, TX. Thanks for contributing to PE Central! Posted on PEC: 7/24/2010. Viewed 28925 times since 2/24/2010.
Heart Walkers

---
Previous Comments:
| | |
| --- | --- |
| Suzetta Drozd | How about first grader any ideas for the first PE class |
---
---