Name of Activity:
"Polar Express"
Purpose of Activity:
To improve cardiorespiratory endurance and muscular strength while sharing general space.
Prerequisites:
Students will have had instruction in scooter safety and will be able to demonstrate the ability to move safely in general space.
Materials Needed:
9 gymnastics mats, 6-10 scooters (or enough for 1/4 of the class), 12-20 small carpet pieces, 12 cones, 3-5 ropes, 3-5 gunny sacks, 60 or more beanbags or other small objects to represent toys, 2 containers such as large boxes or bins, 6-10 hula hoops, 60 or more yarn balls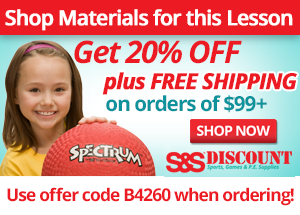 Description of Idea
Warm up: "Christmas Tree Tag"
As an instant activity, play this tag game for 3-5 minutes. When tagged, the children put their arms out like a Christmas tree. To get untagged, another classmate makes a circle with their hands and pretends to put a star on top of the frozen child. Have several taggers, and switch several times.
There are four stations. Make posters for the wall to label each of the stations. Divide the class into four groups. They will rotate to each station when signalled to move.
Station 1: "Polar Express"
Set up: Make 3 tunnels using 3 mats for each tunnel, bracing them with weights or chairs so they don't collapse.
Directions: Children lie on their bellies on the scooters and move through tunnels, using their arms to propel them and watching so they don't get too close to each other.
Station 2: "Polar Ice Cap"
Set up: Have enough small carpet squares for each child at that station to use as "skates" and enclose the ice cap area with cones.
Directions: Children will skate or ski around the area, watching for others as they move in general space. They will push down on the carpet squares to keep them under their feet.
Station 3: "Santa's Sleigh"
Set up: Have a container of beanbags or other small objects (toys) on one side of the area to represent Santa's Workshop and an empty container at the starting point to represent Santa's toy sack. Have enough gunny sacks and ropes for each pair of children.
Directions: Children will take turns being the reindeer or Santa. Santa will sit on the gunny sack and hold the rope while the reindeer will pull Santa to the Workshop to retrieve a "toy" for the toy sack. The reindeer should pull the rope chariot-style, around the waist. After a "toy" is collected by Santa and deposited in the toy sack, the children will switch positions.
Station 4: "Sleigh Bells"
Set up: The hoops are spread out in the playing area and each child is assigned a hoop. Divide up the yarn balls evenly into the hoops.
Directions: Each child starts out standing in a hoop. This is their sleigh. On a signal, the children will run to the other "sleighs" and pick up one yarn ball (sleigh bell) and bring it back to their sleigh. After a few minutes, stop the children and have them reverse the activity by taking the balls out of their hoops and putting them in the other's hoops.

Assessment Ideas:
Using a checklist, observe the ability to move safely in general space.
Adaptations for Students with Disabilities

Use peers or paraprofessionals to assist children with handicapping conditions. A long scooter can be used at the "Polar Express" station with a rope attached to pull the student through the tunnel. A peer or assistant can "skate" behind a student in a wheelchair at the "Polar Ice Cap" station. "Santa's Sleigh" station can incorporate a wheelchair to substitute the gunny sack. The "Sleigh Bells" station can be adapted so the student with mobility difficulties assists a peer by tossing the ball into the hoop from a midway point.
Submitted by Rich Lynerd who teaches at Fruitland Primary School in Fruitland, MD. Additional authors for this idea were Aly Brabitz. Thanks for contributing to PE Central! Posted on PEC: 1/3/2010. Viewed 101365 times since 12/8/2009.
"Polar Express"

---
Previous Comments:
There are currently no comments to display. Be the first to add a comment!
---
---