Name of Activity:
Horton Hatches the Egg
Purpose of Activity:
To introduce aerobic, strength, endurance, and flexibility fitness activities in a fun and interactive way.
Prerequisites:
1.Spatial awareness skills and the ability to move in general space safely. 2.Proper technique when performing the aerobic, strength, endurance, or flexibility physical activities selected for moving from one hula hoop to another. 3.Prior to the lesson, read the book Dr. Seuss's Horton Hatches the Egg.
Suggested Grade Level:
K-2
Materials Needed:
one hula hoop and one poly spot for each student, Dr. Seuss's Horton Hatches the Egg book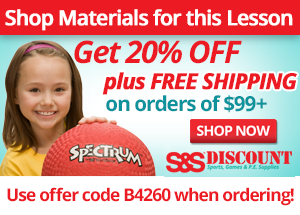 Description of Idea
Scatter the hula hoops throughout general space and place one poly spot in the middle of each hoop. Explain to the students that they are going to pretend that they are Horton the Elephant and that their goal is to hatch as many eggs as possible! Students get inside the hula hoop and hatch an egg (sit on a poly spot). Before the student moves to hatch another egg (sit on poly spot), they have to complete a set of 3-5 fitness activities chosen by the teacher (jumping jacks, sit-ups, push-ups, jog in place, etc.)

Assessment Ideas:
Informal observation using corrective feedback as students perform the fitness activity.
Submitted by Meghan Morningstar who teaches at African Road Elementary School in Vestal, NY. Additional authors for this idea were None. Thanks for contributing to PE Central! Posted on PEC: 12/19/2009. Viewed 93220 times since 12/3/2009.
Horton Hatches the Egg

---
Previous Comments:
| | |
| --- | --- |
| asah | I work with kids this game sounds fun because they love dr.suess. |
| Allison | A poly spot is the same as a round marker. Look up Poly Spot on any search engine and they will show you a picture. |
| adina | What is a poly spot? I'm from Australia and I haven't heard of this before? |
| Parker Ellison | I played musical nests after reading the book. Placing the children in a large circle around the gym I would give them an activity (jog, crab-walk, walk on your toes, skip, etc.). They would do that activity all clockwise around the circle of nests and then I would say HATCH. They then would find a nest. Each time I'd take out a nest and one person would sit out until there were two winners. Then new game. |
---
---