Name of Activity:
Tchoukball Hot Potato
Purpose of Activity:
To have students learn some of the concepts and strategies that are used in the International game of Tchoukball. This lesson focuses on throwing and catching.
Suggested Grade Level:
6-8
Materials Needed:
3 rebound nets and Tchoukballs to throw and catch. If you do not have Tchoukball then make sure you use a substitute ball that is soft so it does not injure anyone.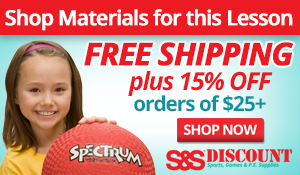 Description of Idea
If you have not seen this sport look at the videos before and do a search to learn more about the rules, etc.
This would be a good station that could be set up if there are not enough rebound nets available. For safety make sure the kids know that if they throw the ball hard it is going to come back at them very fast so start off slow.
Procedures:
Set up rebound nets against the wall of the gym.
Around the net, set up a "forbidden zone" in a semi circle about 10 feet away from the net.
Have the students break into as many even groups as you have nets and have them surround the forbidden zone using cones.
The students will throw the ball off of the net and catch it when it comes towards them.
Once they catch it, they will immediately pass to another player standing on the perimeter. If this doesn't happen, the same two students will always get the ball because it will continue to bounce off at the same angle.
The student who catches the pass throws the ball back off of the net, as if it were a "hot potato" that they couldn't hold onto.
Some YouTube videos to see the game of Tchoukball.
http://www.youtube.com/watch?v=klGVBCcSCB8&feature=related
http://www.youtube.com/watch?v=FxjaZ6WARwk

Assessment Ideas:
To assess the students ability to have the ball rebound off of the net to the area where they intend it to, challenge the student to stand where they would need to in order to throw the ball off of the net and have it rebound to certain spots around the net. If the student can do this, they receive a checkmark. If not, they do not.
Adaptations for Students with Disabilities:
Equipment: A blind student could use a ball that emits a sound in order to be able to track it.
Instruction: A deaf student could have the instructions demonstrated for them rather than verbally given.
Environment: An autistic student could play the same activity with a smaller group of students in order to reduce stress on him/her.
Rules: A blind student could have another person catch the ball for them, hand it to them and point them towards the target to throw.

---
Submitted by Jason Wozniak in Stevens Point, WI. Thanks for contributing to PE Central! Posted on PEC: 1/21/2010.

Viewed 134961 times since 11/23/2009.
---
---
Previous Comments:
| | |
| --- | --- |
| SAIS International School | I'd be interested to learn how I might throw the ball towards the net for a bulimic student who thinks she might gain weight if she catches it. Should I deflate the ball, have her digest it, then vomit it out at the net? Thank you. |
| Nonya Bidness | Nice work. Hey, do you have any lesson plans for lunch period? Thank you. |