Name of Activity:
Themed Fitness Fridays: Rocky
Purpose of Activity:
The purpose of the activity to is increase cardiovascular endurance using a themed activity with stations that are fun and motivational.
Prerequisites:
Review of the different fitness stations and/or concepts.
Suggested Grade Level:
9-12
Materials Needed:
Themed music, Paper, Medicine Balls, Jump Ropes, Floor Ladder, and Floor Mats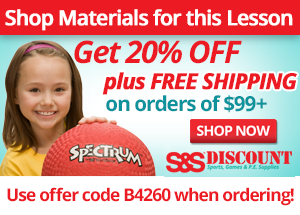 Description of Idea
Fitness Friday is a consistent activity that incorporates fitness into any unit. Fitness Friday consists of different fitness stations that are based around a theme. The theme can vary from a type of era to a movie. Some of the other Fitness Fridays have included Michael Jackson, Halloween, and Boot Camp. The one below is based on the movie Rocky.
The Fitness Friday for this activity was ROCKY. The stations for this Fitness Friday were based on the movie. The stations have punching combinations and a lot of the different training sequences that were used in the different movies. In addition, ROCKY theme music is played throughout the workout. Even one of our physical education teachers dressed up as a ROCKY to motivate the students during the workout. The workout lasts about 15 minutes. There were 9 stations that are based on the different ROCKY movies. The students would complete the exercises for each station during a 45 second time frame. Once the station was completed, the students would rotate to a different station.
The stations were:

1- Jump Rope; students would jump rope for 45 seconds. The technique could be both feet, 1 feet, alternating feet, double jumping.
2- Medicine Ball Sit Ups; students would lie on a mat with a medicine ball in their hands. When they sat up they would throw the medicine ball against the matted wall, catch it, and sit back down.
3- Line Drill; there is a box that is outlined with floor tap. The students must shuffle around the box forwards, sideways, backwards for 45 seconds.
4- Ladder Drill; an agility ladder is used. The students will use different combinations to go through the ladder (ex, Deon Sanders, both feet in, left foot only, right foot only).
5- Push Ups: students will perform regular pushups for 45 seconds
Fitness Boxing Stations: being that the ROCKY movies are about a boxer, students will practice different punching combinations at a designated station. These combinations need to be taught in a previous unit. Safety Note: Students will be performing these routines in space and not near any other student.

6- 1, 2 Combos (Jab & Cross); Students will perform a jab, cross combination for 45 seconds.
7- 3,4 Combos (hook & upper cut); students will perform a hook and upper cut for 45 seconds.
8- 1,2,3,4 Combos; students will combine all 4 punches into a sequence, and complete that sequence for 45 seconds.
9 - Shuffle Punches; students will be in a punch position shuffling forwards, backwards, side to side for 45 seconds.
Teaching Suggestions:
Being that Fitness Friday is designed to keep students physically active, random pulse checks would be one form of assessments. The students target heart rates should be in the 120-180 range. This allows you to see how hard the students are working out. If you ask a student what his/her heart rate is and it is not in the range, he/she needs to be working harder.
Submitted by Stephanie Adamshick who teaches at WALLKILL SENIOR HIGH SCHOOL in Walkill, NY. Additional authors for this idea were Bill Earl, Dave Moore, Tom Palazzo. Thanks for contributing to PE Central! Posted on PEC: 1/18/2010. Viewed 105397 times since 11/3/2009.
Themed Fitness Fridays: Rocky

---
Previous Comments:
| | |
| --- | --- |
| GoForIt_pwm | I like this idea very much. I'll do my usual tweaking, but very good ideas. I think I'll tie it in with "stranger danger." |
| Mitch Roy | |
| Delfina | |
---
---