Name of Activity:
The Ball is Faster
Purpose of Activity:
The purpose is to help students realize that defenders can keep up with the ball when you are dribbling making the point that it is much better to pass the ball to a teammate.
Suggested Grade Level:
6-8
Materials Needed:
Basketballs and a basketball court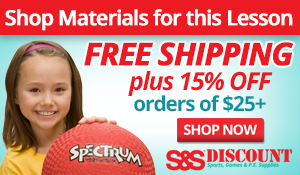 Description of Idea
Put students in pairs. Each pair has one basketball. Student A dribbles from one end line to the other end line. Student B runs next to Student A. It is a race between the 2, one is dribbling the other is not. If your gym is big enough, every student in the class can participate at the same time. If not, half of the pairs can go at a time. Do the race twice, so each student gets an opportunity to be the dribbler.
After the races, call them in for a brief discussion. In most cases, the non-dribbler was able to keep up with or beat the dribbler in a race. Tell them they are now going to race a very difficult opponent - THE BALL!
Have all of the students line up on an end line. They will run to the other end line on the command "GO". The teacher stands on the start line with the ball. No students have basketballs. The teacher says "GO". The students run. The teacher throws the ball towards the finish line. The ball wins every time.
After the race, call them in for another discussion. Explain to them that many people can keep up with or go faster than someone who is dribbling, but nobody can keep up with or beat a thrown ball. Tell them that they are going to play basketball now. Start in smaller sided games if you wish.
Make teams and put them on the court with a "flat" ball. This will assure that they pass the ball. Only use the flat ball for a short while to prove the point about emphasizing the importance of passing (instead of dribbling) when your team is on offense. When you finally let them use an inflated ball, observe the number of passes. It should increase.
---
Submitted by Bob Wright in Richboro, PA. Thanks for contributing to PE Central! Posted on PEC: 12/2/2009.

Viewed 91193 times since 10/22/2009.
---
---
Previous Comments:
kaylie
Don V

@Russ- Learn how to offer constructive criticism instead of clobbering someone if you don't like the drill. I didn't write this lesson, but it can be effective for a short while.

By the way, you lost what credibility you had left when you misspell lesson.

Strong Legs

@ Russ- Learn to spell. These lessons are great! Thanks to those that post them.

kathy davenport

flat ball....what a brilliant idea to encourage passing!! thanks

Matt

This would be good as an anticapatory set to draw the students into thinking of passing, but not as an entire lesson

billie bob bip
desmond

it was a litte good but some kids did't like.next time think of shootnig the ball

Russ

That is a ridiculous lesoon