Name of Activity:
Frisbee Tic Tac Toe
Purpose of Activity:
To practice throwing a frisbee.
Prerequisites:
Forehand/backhand Frisbee skills
Suggested Grade Level:
6-8
Materials Needed:
Frisbees (two colors): 9
Jump ropes, tape, hula hoops (for game board): 4 jump ropes or 9 hula hoops (to include everyone, four boards would be beneficial).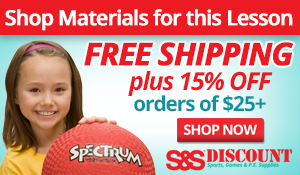 Description of Idea
Two or more students may participate in this activity. Each team will have a set of colored Frisbees. A person from Team 1 will throw his/her Frisbee attempting to land the Frisbee in an open square on the game board. Then a person from Team 2 will do the same. The team to finish the tic tac toe first, either horizontally, vertically, or diagonally signals the start of a new game.

If a Frisbee lands outside of the game board, the Frisbee may be used again, but only after the opposing team's turn. If a Frisbee lands on a line, the Frisbee will move to the square which contains the majority of the Frisbee. If the Frisbee is in the center of intersecting lines, the Frisbee may be re-thrown.
This activity could be used as a station with limited equipment.
Variations:
Equipment: Make the game board a little larger if necessary.
Instruction: Provide students with either electronic or written task cards depicting instruction and game play.
Assessment Ideas:
Students can draw the tic tac toe board on paper to depict where their Frisbees landed on the real board. On self assessing, why did their frisbee land where it did if not in the area they wanted it to?
---
Submitted by Jackie Groff in Stevens Point, WI. Thanks for contributing to PE Central! Posted on PEC: 5/23/2009.

Viewed 78651 times since 4/30/2009.
---
---
Previous Comments:
| | |
| --- | --- |
| Great game | This is a great way to teach frisbee throwing before I start Frisbee golf...thanks |