Name of Activity:
Sobriety Testing Stations
Purpose of Activity:
Students will be able to identify each of the different sobriety tests and how they are used to detect the amount of alcohol consumed by a person and the physical affects of drinking alcohol.
Suggested Grade Level:
9-12
Materials Needed:
2 Breathalyzers, 2 pairs fogged sun glasses, index cards, 5 small pen lights (when checking the movement and shape of the pupils when a person is suspected of drinking), 1 video about consequences of DUI's and DWI's and the field, sobriety tests that are used to determine how much alcohol a person has consumed, 1 roll of the wide masking tape. (Note: The drunk driving videos and breathalyzer tests may be available from a local chapter/office on drinking and driving. As an example, in Virginia, this office is referred to as VASAP or the Virginia Alcohol Safety Action Program. The names of these offices may vary from state to state. Local police departments or sheriff's office may also lend you some breathalyzer tests for educational purposes.)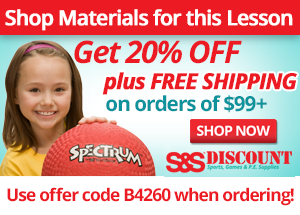 Description of Idea
At the beginning of the class the students will be shown a fifteen minute video about the consequences of DUI's and DWI's and the different field sobriety testing used to determine how much alcohol a person has consumed.
After the video students will participate in four different stations. Index cards at each station have directions written out for students to follow.
The first station will have two breathalyzers that students will actually try.
The second station will have two pair of fogged sun glasses (Use Vaseline or other lotion-like substance on the lenses) to show the students how vision is affected after consuming alcohol. While wearing the sunglasses, students will walk up to the board and write down a sentence that is shown on the index card at that table.
The third station will have 5 small pen lights. Students will use these to check pupils of the eyes to see if they are dilated. They will then be given two different tasks to do with a partner:



Shine the light into your partner's eyes with their permission and watch how their pupils change shape. If they had been drinking, their pupils would stay dilated.

Move the light around in several directions and have your partner follow the light with the eyes only (not moving their head). If the person had been drinking they would not be able to focus on the light or any object.

The fourth station will have a 3 inch wide, 10 feet long tape taped on the floor. Have one partner put hands and palms together and, while standing, raise the hands straight up above the head. While looking directly up at the hands, the other partner will help the first spin around five or six times. Immediately following this, the person who was spinning is to try to walk in a straight line along the tape.
Assessment Ideas:
Assemble students into 5 groups. Give each student an index card. Have each group write down and perform a skit that relates to the things they did in the four stations or what they learned from the stations and the fifteen minute video.These skits and index cards will be used to check for understanding.
Submitted by Erin Irvine who teaches at Orange County High School Thanks for contributing to PE Central! Posted on PEC: 9/23/2001. Viewed 92148 times since 8/24/2001.
Sobriety Testing Stations

---
Previous Comments:
There are currently no comments to display. Be the first to add a comment!
---
---