Name of Activity:
Dancing on Different Levels (February 2009)
Purpose of Activity:
Used in the preschool or lower elementary grades, this dance can reinforce the concepts of moving in a low, medium and high level as well as practicing movements to the right and left.
Suggested Grade Level:
PreK-2
Materials Needed:
CD player; "The Lion Sleeps Tonight" from the Rhythm of the Pride Lands CD, Walt Disney Records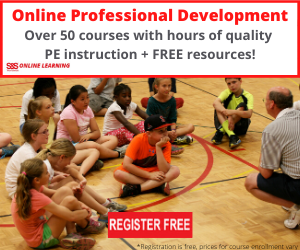 Beginning dance formation:
one large circle
Description of Idea
Hold during the introduction. Begin the movements when the chanting begins.
1-32 - Stay in place and sway R and back to the center, then sway L and back to the center - with each sway taking 2 counts and holding in the center for 2 counts - (8 sways)
1-8 - Step R to the R (2 counts)
Close L foot next to R (2 counts)
Step R to the R (2 counts)
Close L foot next to R (2 counts)
1-8 - Place palms together and place both hands to the R side of the head and pretend to sleep on the words "the lion sleeps tonight"
1-16 - Repeat both the step close and the sleeping movements above this time moving L
1-8 – "Lion Hunting" 4 steps (2counts/step) into circle looking for lions at the high level
1-8 – 8 quick steps backing out of circle
Repeat both sets of 8 moving in and out of circle at a high level
1-8 – "Waking Up and Stretching" – Extend both arms above the head and stretch while each child takes 4 steps in his own space making a small circle to the R
1-8 – Continue stretching and take 4 steps in a circle to the L. All children will end up facing back into the center of the circle.
Repeat entire dance for a second time, this time looking for lions in the middle level.
After the second time, march 8 slow steps (16 counts) in place and begin the dance again for the 3rd time - this time looking for lions on the low level.
After completing the dance for the 3rd time, march in place 24 slow steps and begin the dance for the 4th time - allowing the students to "lion hunt" at their favorite level.
Variations:
Add variety to the slow marches that are between the dance repetitions by asking the children to march in a low, middle or high plane. Or ask them to march wide or narrow. Use your imagination to add any other movement concepts that you have been working on.

Submitted by Brenda Goodwin who teaches at Missouri State University in Springfield, MO. Thanks for contributing to PE Central! Posted on PEC: 2/3/2009. Viewed 49006 times since 2/3/2009.
Dancing on Different Levels (February 2009)

---
Previous Comments:
There are currently no comments to display. Be the first to add a comment!
---
---