Name of Activity:
Body Image and Eating Disorders
Purpose of Activity:
To educate middle school children about the importance of having a healthy body image, and the dangers of developing a eating disorders.
Suggested Grade Level:
6-8
Materials Needed:
Computer, Projector, Power Point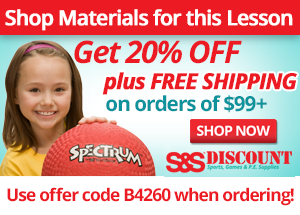 Description of Idea
This lesson fits Health National Standard #2 ("...analyze the influence of family, peers, culture, media, technology, and other factors on health behaviors")
The material for this lesson includes a Power Point and correpsonding worksheet. The Power Point is used in conjuncture with the student worksheet. During the class session, the Power Point is discussed. Students fill out the quick writes (little breaks to jog the memory) and vocabulary throughout the class period. For homework, the students complete the vocabulary exercise by selecting one of the new vocabulary words. They also use complete sentences to answer the application question as the end of the lesson. The worksheet is turned in the following class period to be graded.
Body Image and Eating Disorders Power Point Presentation (PDF--very large file)
Variations:
Allow students (or small groups) to create some of their own power point slides on one specific area of the topic, then present to class.
Instead of offering one option (create a poem or story) at the end, use multiple intelligence concept for more options. Create a product (brochure, poster), find a song or video clip that illustrates some of the information on eating disorders and present to class, a review game or skit, etc. This would make the entire unit more student centered.
Assessment Ideas:
Create a worksheet to follow along. Application idea included at the end of the Power Point.
Submitted by Stephanie Goudeau who teaches at Appomattox Middle School in Appomattox, VA. Thanks for contributing to PE Central! Posted on PEC: 1/8/2010. Viewed 66407 times since 1/21/2009.
Body Image and Eating Disorders

---
Previous Comments:
Melody Pierce

Hello, I would really consider checking your facts in this presentation, you can be at any weight to have any eating disorder bulimia does not equal normal weight, binge eating disorder does not mean overweight. It is supplements like this that contribute to the problem/stigma.

Leah

I don't know that you will get this in time, but is there a way I can get the PPT so I can show it to my students tomorrow?

Brian

Anyway I could receive the worksheet? Thanks.

christine

Any way to get this not in PDF so I can alter it and view it view screen?

Wanda

Would love to have the work sheet

Rico Gutierrez

Has anyone contacted Stephanie Goudeau regarding the worksheet? This is a great lesson and i was hoping to use it this semester.

Mike Pierce

The worksheet is not provided. You have 2 powerpoint presentations. Great job otherwise...thanks for the help

Stacey

The worksheet/Assignment does not open.

Does anyone know how to get in touch with the creator to get that fixed?

Or does anyone have a copy of it?
---
---