Name of Activity:
How Hard Does Your Heart Beat?
Purpose of Activity:
To demonstrate to students how intensity of activity will increase heart rate.
Suggested Grade Level:
6th-8th
Materials Needed:
Some method of measuring heart rate (Ideally, heartrate monitors can be used; activity can be done by finding arterial pulse), paper and pencils.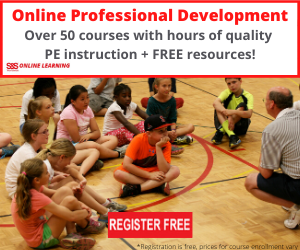 Description of Idea
Students are first instructed to check their pulse rate while lying down for approximately 2 minutes in a restful position. Students record their heart rate on a worksheet provided by the teacher. Students then move to a seated position and sit for 2 minutes. Following the 2 minutes, they recheck their pulse and record. Students then stand for 2 minutes and reassess and record the pulse.
This process continues with the following progression of activities:
- marching in place
- running in place
- jumping in place
- jumping jacks
- sitting down
- lying down
After completing all of the checks, students then plot their heart rates on a graph provided by the teacher. Students and teacher discuss the results of the lab.
Assessment Ideas:
Students write a summative paper that describes how the activities affected their heart rate
Submitted by Ron Trainum in Toano , VA . Additional authors for this idea were Suzanne Parker. Thanks for contributing to PE Central! Posted on PEC: 5/18/2000. Viewed 33354 times since 8/24/2001.
How Hard Does Your Heart Beat?

---
Previous Comments:
There are currently no comments to display. Be the first to add a comment!
---
---