Name of Activity:
Winter Wonderland Stations
Purpose of Activity:
This activity allows students to have fun during the week before winter break while also working on fitness activities.
Prerequisites:
Students should have had experience with scooters and understand how to move safely in the gymnasium.
Suggested Grade Level:
all
Materials Needed:
One large beach ball or cage ball, several cones, floor tape, snowman cut-outs, 10-12 washcloths to be used as "skates" (could also use small carpet squares or paper plates), 30-40 yarn balls, winter music and CD player.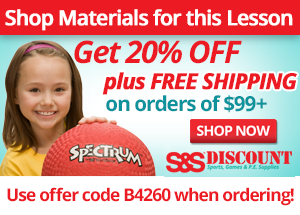 Description of Idea
Set up: Decorate the cones using snowman wrapping paper or cut-outs to help give the gym a winter feel. Use "wintertime" music during class, stopping the music to indicate that it is time to move to the next station.
Directions: Students will be divided up into five groups, each group starting at a different station and rotating clockwise when the teacher gives the signal to rotate.
Station 1 – Big Snowball Relay
Instructions: Students will line up in 2 lines facing each other. The first person in line with the big snowball will run with the ball while pushing it forward to get it to the first person in the line across from him/her. Students will take turns pushing the ball to the classmates across from them.
Equipment: 1 large beach ball or cage ball and cones or lines to mark where students should line up.
Station 2 - Bobsled
Instructions: One partner sits on the scooter with legs crossed while the other partner pushes the scooter partner around a bobsled course of cones.
Equipment: Floor tape to create 1 to 2 different bobsled lanes (you may use one curvy lane and one zig zag lane for different pathways); cones along the tape lines to help mark the course; 2 scooters, one per lane.
Station 3 –Wash Cloth Skiing/Ice Skating
Instructions: Students will put each foot on a wash cloth and will slide their feet across the floor to ski around the station. You may set cones up with snowman faces around the station to make it more fun. Give students the option to either freestyle ski by making up their own movement patterns; play freeze tag; race each other; or zig zag around cones.
Equipment: 2 washcloths per student; cones spread out around the station.
Station 4 - Snowman Relay
Instructions: Students divide themselves into 2 teams and line up behind one of the designated cones or line up areas. Students will take turns with teammates to run to pick up one piece of a snowman and bring it back to the team cone. Players should start with the large circle, followed by the medium circle, and should finish with the smaller snowman face circle. Students will attempt to make as many snowmen as they can before time is up.
Equipment: Laminated snowman pieces – 40 large circles; 40 medium circles; 40 snowman faces; cones to mark the designated starting points.
Station 5 - Snowball Fight
Students will use yarn balls to have a snowball fight with their group. The station area can be divided into two sides so each team has to stay on its own side of the station. Mats can be used to set up as walls or forts to hide behind.
Equipment: 40 yarnballs; mats optional

Assessment Ideas:
• Ask students at the end of class which stations used upper body muscles and which stations used lower body muscles.
• Ask students which stations worked on cardiovascular endurance.
Adaptations for Students with Disabilities

Have students with disabilities partnered with a peer. Students using wheelchairs can participate in all stations.
Submitted by Julie Westcott who teaches at George Mason Elementary School in Alexandria, VA. Thanks for contributing to PE Central! Posted on PEC: 9/2/2009. Viewed 60915 times since 12/19/2008.
Winter Wonderland Stations

---
Previous Comments:
| | |
| --- | --- |
| Kristin Jones | I did almost the same type of set up last year at my school and it was really good! Teachers should definitely try to implement this into their gyms. Also for underprivileged areas another idea is using paper and tape to make snow balls! |
---
---