Name of Activity:
Balancing Act!
Purpose of Activity:
To demonstrate body management skills specific to balance with and without the use of apparatus.
Prerequisites:
Prior lessons on body management skills.
Suggested Grade Level:
K-2
Materials Needed:
Variety of cones, Pencil for each student,
Balancing Act Checklist
for each student, 3-4 peacock feathers (or 3-4 plastic bats), 3-4 15' heavy marine ropes, 6-8 individual mats, 15 polyspots, balance beam, 3-4 pool noodles, 3-4 beanbags. (Peacock feathers can be found in
craft stores
, marine ropes can be found in hardware stores)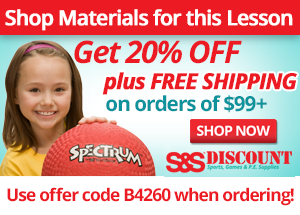 Description of Idea
Use cones to designate station areas and prepare each area for activity.
Station 1 6 x 6' area
Station 2 Lay ropes in a line, circle, and square
Station 3 Spread out mats
Station 4 Lay polyspots in a random pattern
Station 5 Set the balance beam low
Station 6 Spread out pool noodles
Station 7 Spread out mats
Station 8 (Beanbags)
Divide students in groups of 3 and assign each to a station. Demonstrate activity at each station before beginning. Provide 2-3 minutes for students to complete balance challenges before signaling them to move on to another station. (Rotate in order)
Assessment Ideas:
Ask seven 4th or 5th graders (or parent helpers) to assist in assessing students using the Balancing Act Checklist.
Submitted by Karen Schmitz who teaches at St. George School in Tinley Park, IL. Thanks for contributing to PE Central! Posted on PEC: 3/3/2010. Viewed 136546 times since 12/16/2008.
Balancing Act!

---
Previous Comments:
| | |
| --- | --- |
| Karen Schmitz | Tom! Thanks for the suggestions! I will incorporate these! |
| Thomas Callahan | I think it is a great activity but there are a few things I could add into it. I would have the students balance on different level equipment ( low and medium levels). Have them balance stationary before they start balancing traveling or in a sequence .Use different pathways such as straight, curved, and zigzagged. |
---
---