Name of Activity:
Listening to My Body (Stress Dots)
Purpose of Activity:
To teach by immediate observation, the change of skin temperature in response to a variety of activities: fear of test taking, eating, watching a TV show, reading a book, talking to the principal, etc. The student learns (by reading a temperature-sensitive dot on the back of their hand) how to associate changes in their body's reaction to a variety of stimulation (or lack thereof).
Suggested Grade Level:
6-12
Materials Needed:
Stress Dots
and color-coded cards or wall chart.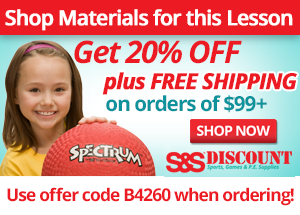 Description of Idea
Each student receives a Stress Dot and applies it to the back of their hand (non-toxic adhesive is on backside of dot). They are instructed to establish a baseline of skin temperature by reading the dot and comparing it to the color-code-card or wall chart. Next, they watch the effect on their skin temperature of various types of normal activity: eating, sleeping, watching TV, studying, worrying about a test or upcoming sports activity, etc.
Students then report on the color/temperature changes that they observed while involved in the various activities.

Variations:
Students may also find it useful to document the amount of stress they felt (perhaps on a scale from one to ten) during the various activities and see if the stress that they perceived was similar to the color changes on the Stress Dots.
Submitted by Ken Jones who teaches at Corvallis Counseling & Consulting Center in Corvallis, OR. Thanks for contributing to PE Central! Posted on PEC: 9/26/2001. Viewed 84892 times since 8/24/2001.
Listening to My Body (Stress Dots)

---
Previous Comments:
There are currently no comments to display. Be the first to add a comment!
---
---