Name of Activity:
Negative Toss
Purpose of Activity:
To help student's understand they have control over their lives and over which aspects of their lives they choose to concentrate.
Suggested Grade Level:
9-12
Materials Needed:
Each student needs one piece of paper and pen or pencil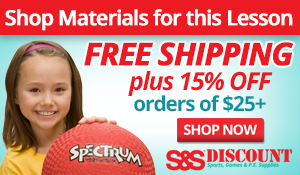 Description of Idea
Each student is instructed to take out a full sheet of paper and write the most negative thing in their life. They are not to put their names on the paper. They put their paper in their hands and then put their hands high over their heads.
They are then told to crumple the paper into a large ball and throw it at the instructor. After the toss, have the students look around the room at the faces of their classmates (there probably won't be a somber face in the group). 
The ensuing discussion focuses on how their moods changed from concentration on the most negative thing in their life to concentration on how much fun it was to throw something at a teacher. From this idea discuss with the class how each of us has a choice of whether we concentrate on those things that are negative or those things in our life that are positive. We can change how we feel at anytime by changing what we focus our attention on.
Assessment Ideas:
Ask students to write on paper or discuss in class the difference in how they felt when they were writing and when they crumpled up the paper and threw it at the instructor. Have them list other things they might concentrate on in their lives that will help them to concentrate on positive feelings.
---
Submitted by Judy Terando who teaches at LaSalle-Peru high School in LaSalle , IL . Thanks for contributing to PE Central! Posted on PEC: 5/17/2000.

Viewed 47017 times since 8/24/2001.
---
---
Previous Comments:
| | |
| --- | --- |
| m. contreras | I like this idea! I will try it when I do a unit on stress. |