Name of Activity:
Cone-Handball
Purpose of Activity:
To practice: (a) passing/catching and throwing, (b) individual defensive (marking) and offensive (getting free) in a game-like situation.
Prerequisites:
Previous practice with "over-head" passing/throwing and catching has taken place.
Suggested Grade Level:
8-10
Materials Needed:
1 (0ne) handball (size 2) or substitute ball for each game played, cones, color vests/jerseys, Game Diagram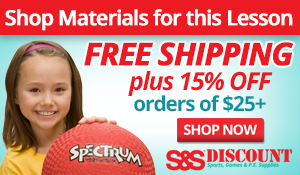 Description of Idea
Two co-ed teams of equal numbers of students (4-7) compete to score as many points as they can within a set time by knocking down cones (4-6) placed in their opponents' respective goal areas.
The goal areas are off limits for both attackers and defenders except for throw-ins. All shots at the cones and defensive actions such as steals, interceptions and blocks must take place outside the goal areas.
The game starts with team captains trying to win first possession during a jump ball in the middle of the field. The game is played according to the no-body contact rule. Players are allowed dribbling, passing, catching, holding the ball for three (3) seconds and making three (3) steps with a ball. Kicking, double dribble and traveling create a turnover situation from the spot where it was committed. A free-throw is a simple pass made by one player to another to restart the game.
All shots on cones should be made with one hand, preferably using overhand technique. A point is scored when the cone gets knocked down by the throw's impact. After each point, the team that was scored upon restarts the game with a throw-in executed by the team's captain from within the goal area.
A penalty shot is awarded and taken by the designated player from the line marking the goal area in two situations: (a) when a defender enters his/her goal area for the intentional purpose of keeping the opponents from scoring, and (b) when a defender fouls an offensive player who attempts to take a shot from the goal area line.
If the ball goes out of bounds, the game is restarted by a player from the opposite team with a throw-in made from the sideline where the ball left the field.
Teaching Suggestions:
As an assessment tool students may participate verbally in an in-class critical skills/behaviors self-assessment. They may also complete a written reflection on how they feel they played and what they think will help them to improve.
Adaptations for Students with Disabilities:
All students with the functional upper extremities can participate in the activity. If a student has only one healthy arm, assign a catching buddy to assist in catching. A wheelchair version of the game is also possible.
---
Submitted by Mariusz Wartalowicz who teaches at Mannheim Middle School in Melrose Park, IL. Additional authors for this idea were n/a. Thanks for contributing to PE Central! Posted on PEC: 10/28/2008.

Viewed 205249 times since 9/4/2008.
---
---
Previous Comments:
Coach Dodson

Been looking for a fun outdoor game for this nice cool Fall weather here in Louisiana. We will play this game this week for our PE class this week. Thanks for this game idea
Coach Dodson


kr

is it okay for a class of 13

Mirriam Dovey

i love you and your site.

Nova Scotia

You can play this game with 2 foam gatorskin balls that match the team pinnies. Each team is always in possession of their ball and start from their own goal line. A team is not allowed to touch other team's ball. If a pass is dropped or when a shot misses cone they must return to their own goal line to restart and if a goal is scored they put cone back up and return to their goal line to resume game. All players on a team must touch the ball before a shot can be taken. Team scoring 5 points first wins. You can also add a spoiler-one player from each team can attempt to intercept the ball from the other team. Makes the game more cooperative in nature.

Steve

My middle school classes really enjoyed this game. We then adapted the rules to another handball game in which we used our floor hockey nets (instead of pins/cones), and they had a zone area (outside the three point line) to throw from. We used one goalie per team and anywhere from 5-on-5 to 7-on-7 in the play area (depending on the number of students). The kids loved both versions of the game!!

Shannon

Great game my students love it.

LM

Im doing homework and i think this will be a great pe game for class!

EM

Thanks! This will be great for my 8th Grade Lesson!

Sophie Shelton
pete zahut
robert johnson

this will help a whole lot. thanks

Nicole

very helpful! =) thank you

Dan

i love this game thank you!!!

laura

Thanks! I am going to use this with my 8th graders today! Sounds like fun!