Name of Activity:
Listening Spots
Purpose of Activity:
To have students learn their personal space in order to listen to the teacher.
Suggested Grade Level:
PreK-2
Materials Needed:
Five different colored permanent markers, semi circular place in the gym to draw the marks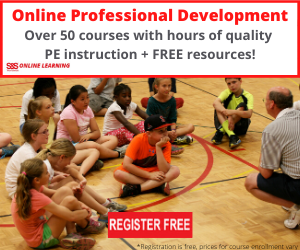 Description of Idea
For my PreK - second grade students, I have drawn symbols on my gym floor to give them their own special "listening spot". The symbols I use are numbered and color coded, such as green frogs, red apples, orange buses, black bears, etc.
I use five different symbols/colors and repeat the combination starting with 1 and going through 5. For my school, I only need 24 symbols, as that is my largest class size. I got permission from my principal to use permanent markers to color these symbols in a semi-circle around the free-throw zone of our gym.
I space them out to give the students enough room to sit comfortably on them without touching the next student. I can assign students to a spot and then when I need to talk to them I ask them to return to their listening spots. In a semi-circle, I can see everyone, no-one is fighting over who they will sit by, and I have instant groups (all the greens, numbers, etc.).
I write down the names of the students on a chart so that a substitute teacher can have access to needed "special" information. This has been a lifesaver and has eliminated disputes over who sits or stands where when I need to talk to them.
Submitted by Teri Charpenel who teaches at Fulton Elementary School in Tinley Park , IL . Thanks for contributing to PE Central! Posted on PEC: 5/17/2000. Viewed 26352 times since 8/24/2001.
Listening Spots

---
Previous Comments:
| | |
| --- | --- |
| lewismamier@mcsk12.net | I've been using you guys as an additional resource for many reasons. You ROCK! |
| Robert L. Uribe | can you type and example? i'm really interested in doing something like this in my gym. Thanks. |
---
---