Name of Activity:
Practicing Proper Social Skills and Rules
Purpose of Activity:
To have students better understand how to properly interact and work with each other during physical education class.
Suggested Grade Level:
3-8
Materials Needed:
Paper and pencil.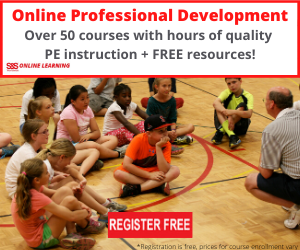 Description of Idea
I do lesson at the beginning of the year because I want my students to have the tools necessary to cooperate and work well with each other. I also revisit this lesson after breaks (e.g., Winter break, spring break, etc.) in the school year. If I don't tell them what I expect out of them then I can't expect them to accomplish this.
In a classroom, I provide them with the following guidelines:
1. Always be respectful to each other.

2. Use wait time when speaking to each other. Wait time is when you allow someone to finish speaking before you begin to speak. I tell them to count three seconds in their head after the person finishes talking and then they can speak.

3. Speak in a normal voice.

4. Listen to the person speaking don't just hear them.

5. Don't use killer statements (once somebody uses a killer statement it becomes impossible to have a positive discussion with that person).

6. Agree to disagree (not all disagreements can be solved and it is O.K. to have differences of opinion).
After I explain the rules to the class I break them into groups and I assign each group one rule to work with. I ask them to list some reasons why that rule is important when working with a group. Then each group comes to the front of the class and shares their list with the rest of the class. Sometimes I even have them act out a skit that portrays the rule they were using and the class has to guess what it was. At the completion of this lesson the students are ready to begin putting these skills to use in the physical education environment.
To check for understanding, I give the students a test. They are placed in groups of five and each group is given one test paper to complete. I give the students two grades during this time, one for the test and another for how well their group used the social skills we discussed the previous day.
Submitted by Jesus Del Corro in Hialeah , FL . Thanks for contributing to PE Central! Posted on PEC: 8/22/2000. Viewed 32849 times since 8/24/2001.
Practicing Proper Social Skills and Rules

---
Previous Comments:
There are currently no comments to display. Be the first to add a comment!
---
---