Name of Activity:
Get A Job
Purpose of Activity:
To develop responsibility skills, and to have students develop ownership of their class.
Suggested Grade Level:
3-12
Materials Needed:
A large piece of tagboard, velcro dots, markers.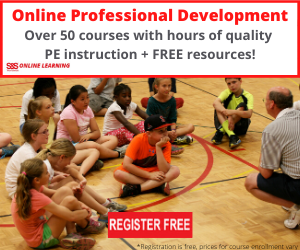 Description of Idea
Determine four or five daily jobs or tasks (make them specific to your PE situation and/or class) that could be handled by students. List these tasks/jobs on a sheet of tag or poster board. Next to each of the jobs, place a Velcro dot. On small sheets of paper, list letters of the alphabet (e. g., A-D, E-H, I-M, N-R and S-Z).
Place the opposite side of the Velcro dot on the back of each of the small sheets, and attach them to the chart. Explain each of the jobs to the students, and then tell them to find the job across from the small sheet that corresponds to the first letter of their first name.
Each day, as students enter the activity area, they glance at the job chart to see what their responsibility is for that day. (Every week, the small sheets should be changed.) The students will end up in small groups that will always be the same, so they should be encouraged to work together and allow everyone in their group to have an equal turn.
Here are a few jobs that work well:
handing out equipment (to players who are sitting down quietly)
Putting equipment away
cleaning the floor
handing out paper and pencils, etc.
Assessment Ideas:
Each group can assess their own work with a short group meeting at the end of each week. One member can then report their results to the teacher.
Submitted by Cindy Kuhrasch who teaches at UW-Platteville in Platteville, WI. Thanks for contributing to PE Central! Posted on PEC: 9/20/2001. Viewed 29527 times since 8/24/2001.
Get A Job

---
Previous Comments:
There are currently no comments to display. Be the first to add a comment!
---
---