Name of Activity:
PE Bucks
Purpose of Activity:
To encourage students to be self responsible during and outside of physical education class.
Prerequisites:
Students should be familiar with the rules and expectations the teacher has set up in class.
Suggested Grade Level:
3-5
Materials Needed:
Self made laminated PE Bucks.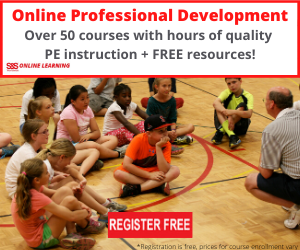 Description of Idea
[It may be best to consider using this idea only if you are having extreme difficulties with discipline and respect. No need to use a reward system if you do not need to.]
On my computer I designed and printed out a facsimile of a one dollar bill with the exception it reads "PE Bucks" in large letters. All these are laminated and I made about 5,000.
Every time a student comes to PE class and works hard and does all the other things expected of him/her they can receive a PE Buck from me. Some specific things they can receive a PE Buck for:
do everything that was asked of them during the class time without complaint
show good sportsmanship by helping others out
be a positive role model
leave a confrontation by not acting on an impulse or instinct
solve a problem in a mature way
etc. (there are several others that you could define for them)
I list these on a poster board so they can see some examples.
I carry the PE Bucks with me throughout the building and throughout the day and I give them out no matter where I may be in the building if I see something good from a student other than in the gym. For example if I see a student helping another student just out of the goodness of their heart I may give them a PE Buck. PE Bucks be can be taken away as well. It may be for being disrespectful, unsportsmanlike, rudeness, etc.
I have my students save their bucks. Saving and keeping track of the bucks they earn is up to the student so they need to keep up with them. If they are misplaced, lost or even stolen they are not replaced.
At the end of every month they can spend their earned PE Bucks in the PE Store that I have built. The store is open during certain times and days and they can spend their hard earned "PE Bucks" then. They have much to choose from in the PE Store:
footballs,
baseballs,
soccer balls,
jump ropes,
frisbees,
hula hoops,
sport note pads,
sport pens,
pencils,
rings,
erasers, etc.
I set the prices and I make the things that they are all working for high so that they have to work really hard.
I have accumulated this stuff by sending out letters to local businesses asking for donations. I got wonderful results and was able to get great things (some I had to buy but at a discount). The question then became how can I continue to have the store full every month. I put up signs in teachers boxes for yard sale things and anything they think I could use. You would not believe the response I got. I have so much stuff we need to build a shed for it. Some of the classes have formed a PE Club within their own class with a President, Vice President, Secretary, and Treasurer. The class as a whole combines their money and they decided on an item everyone wants and they keep it in the classroom and they are able to bring it out for recess or other activities outside.
Teaching Suggestions:
It may be a good idea to keep the PE Bucks in your possession or with the classroom teacher.
Just give out the PE Bucks in PE Class to start with.
Be real clear about what students can get a PE Buck for.
Best to clear this with your school principal if you plan on doing this outside of the PE Class.
If you are going to make a PE Store you need to make sure that it is in place before announcing this system to your classes.
Consider not laminating and leave a place on their to write their names when giving out the Buck. That way they can't trade them with others.
Submitted by Lona Jackson who teaches at Central Elementary School in Amherst , VA . Thanks for contributing to PE Central! Posted on PEC: 5/17/2000. Viewed 49897 times since 8/24/2001.
PE Bucks

---
Previous Comments:
| | |
| --- | --- |
| Tara | I want to do this with my class. Does anyone have a template they could e-mail me of the Bucks they use? |
| Angie | So, do you have a copy of your letter that you sent to the local business? How abut the PE Bucks? |
| pat | sound like a great idea. i am teaching pe this year for the first time and am on the look out for any ideas as to where to begin. i will see how thechildren's behaviour is and will keep this idea on file. thank you for sharing. |
---
---