Name of Activity:
Archery 9-Ball
Purpose of Activity:
To work on shooting form and accuracy while playing an archery game that is different from the traditional 10-ring target.
Prerequisites:
Students should have received instruction and practice opportunities on proper shooting mechanics.
Suggested Grade Level:
9-12
Materials Needed:
Bows & arrows, protective archery shooting gear, target butts or backstops, 1 poster board for each target butt, colored markers. Well-organized, safe archery range.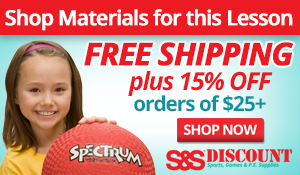 Description of Idea
This archery game involves shooting at a poster board target that has 10 small circles drawn on the poster. The circles can be as small or as large as the skill level of the students will allow. Two to four inch diameter circles work best. Each circle has a number written in it; ranging 1-9. The 10th circle contains the word SCRATCH. These 10 circles are in NO particular arrangement on the target; just randomly placed.
*Please note: The target face could be removed or turned inside out for this game. This will allow the shooter to focus on the new target (poster board numbers) instead of the traditional target.
The idea of the game is for students to shoot at the numbered circles in numerical order, similar to 9-ball in Billiards (Pool); once students successfully hit the #1 they then attempt the #2, and so on. Arrows that miss the intended # have no penalty UNLESS the SCRATCH circle is hit. When SCRATCH is hit the shooter has to start back at the beginning. The first to get to the #9 circle is the winner.
Assessment Ideas:
Assessing shooting mechanics can take place while students are playing the game. Students that spend a lot of time and attempts at each circle may have flaws in their shooting form.
Teaching Suggestions:
Allow students to alternate alternate turns within their group in order to minimize wait time.
Adhering to safety guidelines throughout the lesson is of the utmost importance.
---
Submitted by Leo Saucier who teaches at University of Maine at Presque Isle in Presque Isle, ME. Thanks for contributing to PE Central! Posted on PEC: 4/30/2008.

Viewed 30164 times since 2/7/2008.
---
---
Previous Comments:
Vicky W.

What is the yardage between the target & archer?
What is the poundage of the bows? Recurve or compound?
20 yards is hard for beginner, would you suggest 10 yards?