Name of Activity:
Rainy Day Football
Purpose of Activity:
A rainy day activity to reinforce football rules.
Prerequisites:
Knowledge of football rules such as moving a ball 10 yards for a 1st down.
Suggested Grade Level:
9-12
Materials Needed:
One poster board or large sheet of paper for each group of 2 or 4 students.
Two dice for every 2 or 4 students.
Miniature football, coin, or some kind of game marker.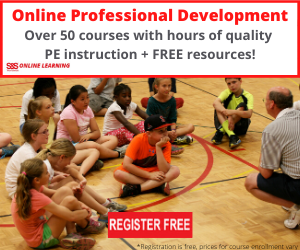 Description of Idea
Draw out a football field on poster board to keep track of position of ball. Students pair up for 1 vs. 1 or 2 vs 2 games. One team will be on defense while the other team is on offense. The team on offense will roll the dice first and try to move the ball across opposite goal line according to the number rolled. Play begins on the 20 yard line. Players on one team take turns rolling the dice. The number rolled determines how far the player may advance her/his marker.


2 equals a 5 yard loss
3 equals a 5 yard gain
4 is a incomplete pass
5 is 10 yard gain
6 is a 6 yard gain
7 is a 3 yard gain
8 is an interception
9 is a 9 yard gain
10 is a 10 yard loss
11 is a 20 yard gain
12 is a fumble (turnover)

Every time the marker moves 10 yards, the team gets a first down. Each team continues until one team scores or loses the ball.
Assessment Ideas:
Have students keep track of stats such as how many total yards their team moves, turnovers and points.
Have students watch a football game and record how many plays and first downs happen in one quarter.
Submitted by Russell Melancon who teaches at Westgate High School in New Iberia, LA. Thanks for contributing to PE Central! Posted on PEC: 8/29/2001. Viewed 102535 times since 8/24/2001.
Rainy Day Football

---
Previous Comments:
There are currently no comments to display. Be the first to add a comment!
---
---