Name of Activity:
Anatomy Tag
Purpose of Activity:
Integration of the names of major muscle groups for anatomy test - study session
Prerequisites:
Major muscle groups must have been taught. Basic function of each group as well as location on body.
Suggested Grade Level:
9-12
Materials Needed:
Large room, a dry erase board, dry erase pens or washable markers, and 3x5 cards with names of muscles on the cards. Each group has an enlarged laminated poster of the anterior and posterior anatomical view of the human body. If you don't have these posters, drawing the body on the board works too.
Organization:
Groups of 3-6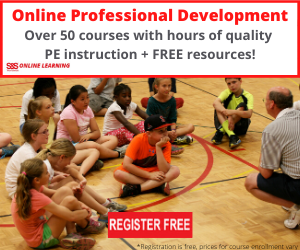 Description of Idea
The students are divided up into groups of 3-6. Designate one "anatomist" for each team whose job it is to tag others from the opposing team. When a person is tagged by the anatomist, they have to: 1) stand at the dry erase board and write the name of a major muscle group and what machine in the weight room works it, or 2) write the name of a major muscle group on the chart on the wall - spelled correctly, or 3) they have to find the pre-written card and attach it to the chart. Once done, they are free (a point or a correctly marked muscle group can be removed if another teammate helps someone who is working. The game continues until all but one team has completed labeling their chart. When a team has all been tagged and are at the chart, they have the opportunity to correct spelling of muscles and change any of their answers.
Variations:
The team with the most players still running gets a chance to answer bonus questions.
More than one player for each group can be an "anatomist".
Assessment Ideas:
Teams look at, discuss, move around, and add to what is on their chart. They can change the chart until an agreement is made about their answers. Each group presents their chart to the class.
Submitted by Stephanie Jackson who teaches at Eureka High School in Eureka , CA . Thanks for contributing to PE Central! Posted on PEC: 5/17/2000. Viewed 81448 times since 8/24/2001.
Anatomy Tag

---
Previous Comments:
---
---