Name of Activity:
Environmental Helpers
Purpose of Activity:
To build team skills and increase muscular strength in the legs.
Suggested Grade Level:
K-2
Materials Needed:
scooter for each student; 30-35 different objects: bean bags, poly-spots, koosh balls, etc.; one hula-hoop or base for each group of two; music to stop and start students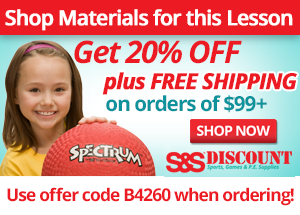 Description of Idea
Before the class starts, spread "trash" (bean bags, poly spots, etc.) around the gym. At the beginning of this activity, give each student a scooter and assign the students to a partner. The two students will connect their scooters, find a home base (hula hoop or base), and sit at that "home" to indicate they are ready to begin the activity. The teacher will inform the students that the local lake or park area has a lot of trash and needs to be cleaned up. Their goal is to collect as much "trash" as possible, while staying on their scooter. One student will be designated as the "driver" and the partner will be the "trash collector." The "driver" and "trash collector" sit back-to-back, using their legs/feet to move. The "trash collector" yells stop when they get to some trash and picks up one piece of trash and the driver steers the team to their home base to dispose of the "trash." Repeat until all the trash is picked up.
The teacher reminds the students how quickly they were able to clean up the "park" by working together as a team.
Have the students switch roles and start the game again.
Variations:
Change partners so students get the chance to work with a lot of different classmates.
Assessment Ideas:
Cooperation: Make sure students are trading roles as "driver" and "trash collector" and observe the communication skills they use as a team.
Muscle strength: Teacher observation of students' performance on the scooters.
Teaching Suggestions:
Use this activity to define muscle strength and endurance. Muscle strength: Ask students if legs are tired and relate it to muscle strength and endurance. Muscle endurance is being able to use your muscles over a longer period of time.
Remind the students that the scooter wheels like to pinch fingers, so they should keep their hands on their laps or on the handles.
Adaptations for Students with Disabilities

Add an additional scooter or larger scooter, if needed for balance or a large body size.
Submitted by Jeff Fredrickson who teaches at Sunnyside Elementary in Berkeley, IL. Additional authors for this idea were Jed Nast. Thanks for contributing to PE Central! Posted on PEC: 2/20/2008. Viewed 110223 times since 1/11/2008.
Environmental Helpers

---
Previous Comments:
There are currently no comments to display. Be the first to add a comment!
---
---