Name of Activity:
Window Soccer
Purpose of Activity:
Students practice moving to open space and passing a soccer ball to open players.
Prerequisites:
Soccer dribbling and passing to a moving target.
Suggested Grade Level:
6-12
Materials Needed:
Soccer ball and two large cones for each group.
Organization:
Groups of 4 or 6 (two teams of 2 or 3)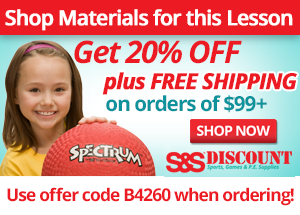 Description of Idea
Two cones are set up for the goal [window]. The distance the cones are apart is up to the instructor and the tighter the cones the less the scoring. There are no out of bounds except for obvious unsafe areas. One team scores through the cones one way [ ie. north] while the other team scores through the other [ie.south]. The teams must only be able to score from their own direction. Anyone can block the shot, but noone can use their hands. The play does not stop when a goal is scored and the team can immediately score after the ball goes through the goal. Goals can only be scored from the knees down.The goals can be scored fast when everyone is around the goal kicking the ball in. All soccer rules are reinorced including free kicks.

Variations:
Make the "window" larger or smaller.
Use uneven teams, i.e. 2 vs. 3.
Add a safety circle around the "window" where no players are allowed to go.
Add a "3 step then pass" rule.
Require both groups to play a zone defense when they don't have the ball.
Assessment Ideas:
Students are successful when they pass the ball around instead of dribbling.
Have students count how many successful passes they make before a shot on goal.
All team members pass two times before a shot on goal while you are watching.
Submitted by Charlie Shahbazian who teaches at Allendale School in Lake Villa, IL. Thanks for contributing to PE Central! Posted on PEC: 9/22/2001. Viewed 151902 times since 8/24/2001.
Window Soccer

---
Previous Comments:
| | |
| --- | --- |
| Peaches | We played it in a smaller gym with 16 players totala nd it went well. the students got a good work out, too! |
| Mandi Hendricks | I used this with my 8th and 9th grade classes and it worked very well. I used teams of 4. Everyone got lots of ball time and they were tired when they finished. |
| Kelly Huggins | I tried this with my 9th grade PE class. They loved it! They stayed active with the game for 15 - 20 minutes. The biggest emphasis was to focus on spreading out / maintaining space. I organized the groups before class so that they would have higher motivation with similar ability levels. It worked! |
| Carla Wentworth | This is a great alternative to tree soccer |
---
---