Name of Activity:
Archery Baseball
Purpose of Activity:
The purpose of this activity is to allow students to participate in a culminating activity that focuses on developing and improving a student's ability to accurately shoot at a target.
Prerequisites:
Students must have a basic understanding of the correct way to shoot an arrow from a bow and all safety guidelines needed to participate in archery activities.
Suggested Grade Level:
9-12
Materials Needed:
Bows and arrows for each student and a scoring card to keep score for a six inning game, targets with a bulls eye in the middle, and two outer rings for targets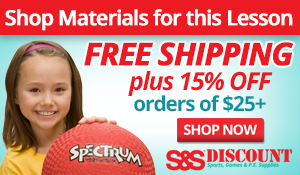 Description of Idea
Students will play with a partner. Each partner will shoot at the target and scoring will go as follows; a miss counts as an out, if the outer ring is hit it is a single, if the second ring is hit it is a double, if the inner right is hit it is a triple, and if the bulls eye is hit it is a home run. Students will play this game just like they would play a game of baseball, three outs then the next person will take their turn. While one student is shooting the other will keep score.
Variations:
If teaching stations do not allow for 2 students per target, have larger groups working together. Each student will have 3 attempts to hit the target at get around the "bases" as far as they can, then their turn is over. When they have their next turn, if they left off on "third" that is where they will continue trying to make it "home".
Assessment Ideas:
Provide students with a checklist on how to perform shooting the arrow correctly. While one student is taking their turn shooting at the target, the other will observe correct form.
In addition to the above assessment, students could perform an assessment that focuses on the affective domain. On the worksheet students will explain whether or not they would pursue archery outside of the classroom and the reasons why one may or may not do so.
Adaptations for Students with Disabilities:
Make the target larger or move the student closer to the target to make it easier for those students. Any adjustment made to targets must adhere to safety guidelines.
---
Submitted by Nick Nelson in Pemberton, NJ. Additional authors for this idea were Corey Gilmore. Thanks for contributing to PE Central! Posted on PEC: 4/30/2008.

Viewed 34016 times since 12/13/2007.
---
---
Previous Comments:
| | |
| --- | --- |
| shannon | this is an excellent idea for my peer leadership group at school I am in year 10 and I wanted a sport that none of the other students use good idea I will keep this site in mind next time |