Name of Activity:
Extreme Ping Pong
Purpose of Activity:
To apply skills in a game type situation, have fun, and be physically active.
Prerequisites:
Students should have received prior instruction and practice on how to correctly perform the strokes necessary for pickleball and/or tennis.
Suggested Grade Level:
9-12
Materials Needed:
wooden pickleball paddles, whiffle or star balls, courts and tennis (or pickleball) nets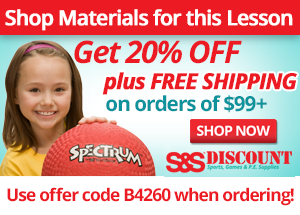 Description of Idea
Extreme Ping Pong is a mix of pickleball, tennis, and ping pong, it's played on a vollyball court. The size of the court may be adjusted depending on your facility.
These are the rules of Extreme Ping Pong:
1) Games go to 15 (singles) or 21 (doubles).
2) Players serve from the back court boundary line.
3) Players/teams get a point on every serve, it doesn't matter which team served it.
4) A person/team serves 5 times unless the receiving player returns the ball and the serving player doesn't return it, then it goes to the other person and it starts their turn to serve 5 times.
5) A player may serve overhand or underhand.
6) When serving the ball it has to bounce on the serving player/teams side before it is hit over the net. Then it's GAME ON!!!!!
7) The serving team will stand on their side spaced apart evenly if playing doubles.
8) A player may choose to hit the ball in the air if it isn't the serve. Designate a line that is far enough away from the net that a player has to remain behind it if they are going to hit it in the air. This will prevent a player from smashing the ball over the net.
9) Players must stay on the court. Players may go out-of-bounds to retrieve a ball or if they are serving.
10) The ball may only bounce 2 times on a side. If it bounces a 3rd time, it counts as a point for the other team.

Assessment Ideas:
Have students utilize a checklist of skill cues to assess player performance of the skills while students play the game.
Teaching Suggestions:
In order to minimize wait time, utilize as much court space as possible. In addition, if teams are rotating on and off courts consider reducing the number of points per game to minimize wait time.
Adaptations for Students with Disabilities

Modify the type of racquet or ball to slow down the speed of play.

Submitted by Bryan McCarthy who teaches at Maquoketa Community High School in Maquoketa, IA. Additional authors for this idea were Levi Young. Thanks for contributing to PE Central! Posted on PEC: 4/30/2008. Viewed 54660 times since 12/3/2007.
Extreme Ping Pong

---
Previous Comments:
There are currently no comments to display. Be the first to add a comment!
---
---