Name of Activity:
Thanksgiving Tag
Purpose of Activity:
Students will have some holiday fun while working on the skills of dodging and fleeing and getting a good cardio workout.
Prerequisites:
None
Suggested Grade Level:
K-2
Materials Needed:
Three different colored pinnies or another way to identify the taggers.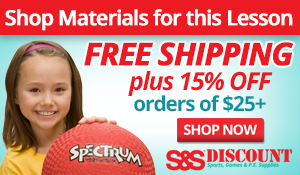 Description of Idea
Give students the following scenario: The family is getting ready for Thanksgiving. There are three taggers: Mom, Dad, and baby, who will wear the colored pinnies. Everyone else is a turkey. The family is trying to catch the turkeys so that they can eat them for Thanksgiving dinner, while the turkeys are trying to get away. The turkeys can save themselves by going down on one knee and calling out the name of another food the family can eat for Thanksgiving, such as mashed potatoes, pumpkin pie, cranberry sauce, and so on. If they can do this before they are tagged, they are safe for three seconds before needing to get up and run again. If they do get tagged, they must stand on one foot like a turkey, frozen in place until another turkey comes over and gives them a "high five."
Continue in this manner for a few minutes, then choose new taggers and the mode in which the students are moving. Besides running, they can skip or gallop. Remind the students to move carefully in the general space, so they do not run into others or cause others to trip and fall.
Variations:
If the class is larger than 20 students, you may want to increase the number of "taggers" by adding a brother and sister to the family!
Assessment Ideas:
Observe the students' ability to change direction and move safely in the general space.
Adaptations for Students with Disabilities:
Students with disabilities could be "Super Turkeys" that cannot be frozen but can help unfreeze the other turkeys.
---
Submitted by Juliann Mazzeo who teaches at Atlantic Christian School in Egg Harbor Township, NJ. Thanks for contributing to PE Central! Posted on PEC: 2/25/2009.

Viewed 82291 times since 11/21/2007.
---
---
Previous Comments:
There are currently no comments to display. Be the first to add a comment!