Name of Activity:
Sharks and Minnows Hand Dribbling
Purpose of Activity:
To give students an opportunity to practice and refine their hand dribbling skills in a game situation.
Activity cues:
"Look up" in order to avoid collisions and getting tagged
Suggested Grade Level:
4-5
Materials Needed:
One ball (put several types out so children can choose) for each student; one pinnie for each student in the class (optional)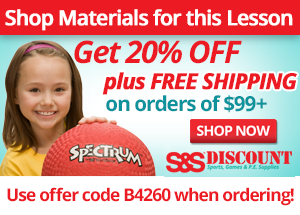 Description of Idea
After students have had opportunities to practice their hand dribbling while working on the cue of "looking up", tell them they will now have the chance to use their skill in a game situation. In order to be successful, they will need to "look up" and be able to observe the location of other players.
Choose two taggers to be "sharks"; these students should wear a pinnie (if desired). The rest of the class will begin the game as "minnows", spread out in the playing area (the "pool"). Each student, both sharks and minnows, has one ball to dribble. On the signal, the minnows begin to dribble while trying to avoid being tagged by the sharks.
If a minnow is tagged by a shark (shark must have control of his/her ball in order for it to be a "fair" tag), they then turn into a shark. This person should go to the sideline in order to put on a pinnie, and return to the game to chase the remaining minnows while dribbling. The game is over when everyone (or almost everyone!) is a shark.
Variations:
Two sharks begin at the edge of the boundaries. On the signal, everyone travels throughout the boundaries. If a student is tagged by a shark or dribbles out of bounds, they must come out of the boundaries, face the wall, and dribble 15 times with both the left and right hands while looking up (forward). They may then re-enter the game. The object for the sharks is to see if they can get all the minnows "out" at the same time. Stop each game after 1 minute choose new sharks.
Students who are "out" must dribble ten times travelling (sliding) left and ten times travelling right to get back into the game.
Students who are "out" must dribble ten steps forward with one hand, switch hands, and dribble ten steps backward with the other hand to get back into the game.
Submitted by Amy Mangels who teaches at Lowes Island Elementary School in Sterling, VA. Thanks for contributing to PE Central! Posted on PEC: 5/12/2016. Viewed 87101 times since 8/24/2001.
Sharks and Minnows Hand Dribbling

---
Previous Comments:
Mr. B from Omaha

With similar activities where students switch roles mid-game, I've been having taggers be the ones without a jersey.
Everyone else starts off with a jersey and when tagged, they take it off and toss it in to a designated area (hula hoop or basket usually).

I've found it to be a much smoother transition over students struggling to get their jersey on and back in to the game.
You get all that fuss over up front!
---
---