Name of Activity:
Team Champ Basketball
Purpose of Activity:
The purpose of this activity is to improve students basketball shooting and passing skills.
Prerequisites:
The basic skills of passing and shooting a basketball should have been taught.
Suggested Grade Level:
9-12
Materials Needed:
2 basketballs, 1 basketball goal per game.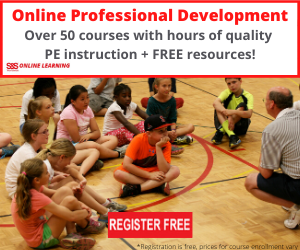 Description of Idea
This game is a great game to use with classes of high numbers in that you can play with as many as 16-18 students in one game. The game also keeps everyone on their toes because everyone must receive a pass before the shooter can shoot.
* Make an even number of teams with 3-4 students per team.
* Two teams will play against each other at one goal.
* The teams line up on opposite sidelines arm's length between each player.
* One player from each team has a basketball.
* The player with the ball is the team's shooter.
* The two shooters, one from each team, meet at the top of the 3-point line (or the free throw line) and touch balls to begin play.
* After the shooters touch the basketballs together, they must pass to each person on their team one time before they can begin shooting.
* The first shooter to make a basket scores one (1) point for his/her team.
* The shooters then become passers on their teams' sidelines.
* A new shooter comes out for each team.
* No student should have more turns to shoot than any other student on the team.
Variations:
Instead of using a basketball, a foam ball could be used.

A trash can could be used as a basket if the basket cannot be lowered to an adequate height.

Assessment Ideas:
Assess the students mechanics of passing and shooting under pressure by utilizing an assessment form for these specific skills.
Identify students who use good teamwork and spacial awareness and be sure to point this out to the class.
Teaching Suggestions:
If a basket isn't scored fairly quickly feel free to change the shooters yourself.
Submitted by Joe Offutt who teaches at West Middle School in Monroe Street, MD. Thanks for contributing to PE Central! Posted on PEC: 1/21/2007. Viewed 128570 times since 11/15/2006.
Team Champ Basketball

---
Previous Comments:
Jenna

very nice, creative, involves a large number of students

Anas A

I am not quite clear on the description but it I think this game may be boring to high school students.


Cody S.

I think this sounds a little primitive, especially for young adults in high school. A competitive game would be much more exciting and strenuous. I wouldn't use this activity except as a class warm up.

Brenda Hickey

This is a good activity. I thought that the younger age groups can do this activity as well. To make it more difficult,the players have to shoot the shot while sitting on a scooter.

Thanks,
Brenda

David Goldberg

I think it would be helpful if there was a video of this activity. I'm not clear about if there's any defense in this activity.
---
---