Name of Activity:
Spook Walk
Purpose of Activity:
The purpose of this activity is to foster communication skills and cooperation, and gain an awareness and appreciation for people with visual impairments.
Prerequisites:
It may help to have students practice tying a blindfold onto another partner.
Suggested Grade Level:
3-5
Materials Needed:
blindfolds; a variety of equipment such as ropes, balls, cones, mats, hoops, bowling pins, and so on.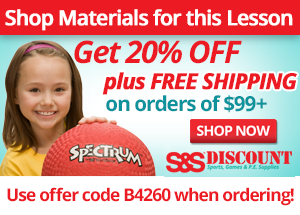 Description of Idea
Spook Walk is a Halloween game that requires a bit of the students' imagination. The set up is fairly easy. Set out a variety of equipment: cones, hoops, balls, etc., and scatter them all over the floor between a starting line and finishing line. The more equipment used, the more challenging the activity.
The students are given partners. The object of this activity is to try to guide the blindfolded partner through the haunted house without touching any of the "spooky, halloween objects" set on the floor. The blindfolded partner cannot see and must rely on the verbal cues given by the sighted partner to navigate the area. For safety, the sighted partner should hold his/her arm out for the blindfolded partner to rest his/her hand on, to avoid the possibility of running into a wall or other people. The students are given three attempts to make it from the starting line to the finishing line without touching an object. If a student makes it across without touching anything, the roles are switched. Encourage the groups to keep count as to how many times they make it across the Spook Walk successfully.
Variations:
As a challenge, encourage the seeing students to guide their partner over the obstacles or through them instead of just finding a path along the floor to walk.
Assessment Ideas:
At the end of class, summarize the lesson and find out what cues helped the partners out the most. Have a discussion about having sight and being without sight. "How did it feel when you were blindfolded?"
Teaching Suggestions:
Please enforce a NO RUNNING rule due to safety reasons.
Submitted by Jennifer Burkhardt who teaches at S.J. Preston Elementary School in W. Harrison, NY. Thanks for contributing to PE Central! Posted on PEC: 11/19/2006. Viewed 57061 times since 11/3/2006.
Spook Walk

---
Previous Comments:
| | |
| --- | --- |
| Payton Rylee Pierce | My sister has been playing with me and I'm still going to be a great mom if I have a daughter or a sister I will never get a chance to see the next update and I'll be at home with a little sister and I love the game footba |
---
---