Name of Activity:
Foam Ball Passover
Purpose of Activity:
To encourage students to work together to accomplish a common goal.
Suggested Grade Level:
3-5
Materials Needed:
Small nerf/foam balls and other small items of various sizes and shapes (yarn balls, etc.); large coffee or other cans (e.g. large, emptied cans from school cafeteria); one hula-hoop for each group of 5-6 students.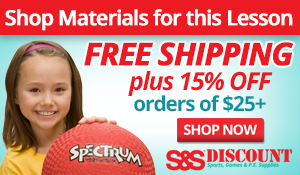 Description of Idea
Explain to students that they will need to work together to accomplish today's activity. In addition, they will need to remember to use positive, supportive language when working with their teammates (discuss and review examples, if necessary). You will be looking not for teams which "win" or finish first, but rather, teams which help each other out and work together.
Use a group of five to six students to demonstrate the general idea of the activity. The students lay down head-to-toe in a line. At the foot of the first student is a hula hoop with a number of various objects placed inside. The object is for this first person to lift a nerf ball from the hoop using his or her feet and pass it over their head to the next person in line -- all while still lying down! The next person must grasp the ball with his or her feet, and again pass it to the next person down the line. Hands are not allowed to be used, except for balance.
Along the way, students are encouraged to use positive verbal affirmations such as "Do you have it?", "Yes, let go." and "No, let me get a better grip"..."Okay, I'm letting go now!" to help each other out.
When the object reaches the last person in line, that person attempts to drop the ball into the can (again, while using his or her feet). If he or she succeeds, they remove the ball with their hands and walk to the front of the line. Everyone scoots down one place, and the process is begun again. When everyone has had the opportunity to put the ball in the can, the team may move on to a different item from the hoop. Ultimately, the goal over two to three class meetings is to get all items in the can and empty the hoop first before students change positions.
As students participate in the activity, reinforce and praise teams for using positive words and comments. If necessary, stop the activity and share/discuss any strategies or positive talk different teams may be using.
Variations:
A hoop can also be used at the end of the line, instead of a can, to give students a larger target in which to place items.
Children with disabilities (e.g., those in wheelchairs) can be positioned in the line so they can also use their feet, if possible, or a combination of their hands and feet.
If two hoops are used, larger items of varying sizes and shapes can be used for students to pass along the line.
Assessment Ideas:
Check to see that all students are being successful with some item and that positive talk is taking place. Note any difficulties in working together which a student(s) may have.
Ask students to complete a small sheet detailing how they and their teammates worked together by coloring in the "smile" face for "good"; "so-so" face for "OK"; "frowny" face for "not so good". Have them write down their thoughts as to why they rated their team this way.
---
Submitted by Dama Hamrick who teaches at Wells Branch Elementary School in Austin, TX. Thanks for contributing to PE Central! Posted on PEC: 10/7/2001.

Viewed 205646 times since 8/24/2001.
---
---
Previous Comments:
| | |
| --- | --- |
| Kristy | We tried this with a group of about 20 1st-5th graders. This is definitely a better game for at least 2nd and up. However, some of the younger ones did better than the older ones that don't like to lay on the ground. They also wanted to rush through and did better after we reinforced the idea that it was not a race but an exercise in communication and encouragement! |